Britney Spears Flashes Cops And Fights Paparazzi 'Terminators' In Sexy Video For 'I Wanna Go' (Watch It)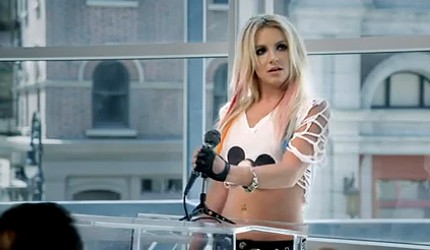 Britney Spears begins her new video, "I Wanna Go," with a press conference answering questions about her tour demands, pregnancy rumors (she's expecting quintuplets with Brad Pitt), and whether or not she "hates puppies." After the latter question she flips out on the press and ends the Q&A session.

Next, she heads out into the street and flashes a police officer before battling Terminator paparazzi with her microphone before ultimately getting swept away in a speeding car with Weeds star Guillermo Diaz.

Check out the video below and keep an eye out for Britney's homage to her Mickey Mouse Club days....