British Royals Offered Vouchers Over In-Flight Entertainment Blunder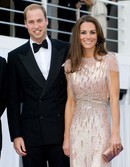 Prince William and Catherine, Duchess Of Cambridge have been handed $300 vouchers from red-faced British Airways bosses - because the in-flight entertainment system used by the royal couple during a recent flight was faulty.

As a result, Prince William and his bride had nothing to watch during their 10-hour flight from America to Britain earlier this month.

To make up for the blunder, BA bosses have given the couple vouchers to spend on duty-free goods.

A spokesman tells news show Entertainment Tonight, "Unfortunately a fault with some parts of the aircraft's in-flight entertainment system couldn't be fixed before the aircraft took off from Los Angeles. We apologise to everyone affected and have offered customers either a voucher or frequent flyer miles to say sorry."