British Pop Star Robbie Williams To Buy Home Where Michael Jackson Died? (Photos)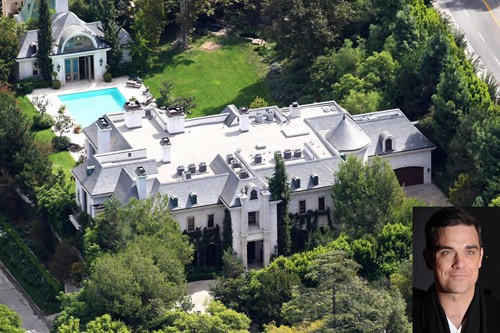 Robbie Williams, a member of the British pop band Take That, has shown some interest in the Los Angeles estate where Michael Jackson died. Jackson was renting the 17,171 squre-foot mansion on 100 Carolwood Drive when he died in 2009.
Williams was recently spotted pulling up to the house in his Range Rover. Is he going to make an offer on it?
The mansion, on sale for a mere $23 million, is located in the posh Holmby Hills neighborhood in Western Los Angeles. Jackson's former estate has seven bedrooms and 13 bathrooms. It also includes 12 fireplaces and seven garages. Williams currently has a home in Beverly Hills that he purchased in 2008 for $18 million.
Williams left his band in 1995 to pursue a solo career. His 1997 album "Life Thru a Lens" became a big hit in Britain, outselling his music with Take That. He rejoined the group in 2010. Although unfamiliar to many Americans, he has sold over 70 million records worldwide.