British Pop Icons Erasure Announce New Studio Album, 'Light At The End Of The World,' Due May 22

Erasure
-the iconic British pop duo of Andy Bell and Vince Clark who've sold more than 20 million albums worldwide-have released their new single "I Could Fall in Love With You" through Mute on April 3. The song is taken from their new album
Light At The End Of The World
due out May 22. Coming after 2006's
Union Street
-an acoustic album of drastically rearranged lesser-known Erasure songs that was recorded with a full band and underlined the enduring quality of the material--
Light At The End Of The World
is a potent return to classic, totally electronic Erasure form as last heard on 2005's
Nightbird
(Mute).
Light At The End Of The World
was written and recorded at a private home in the U.S. in Maine which Clarke and Bell--alongside producer Gareth Jones (
Depeche Mode
,
Nick Cave
)--converted into a recording studio. It was here over a month's time during the fall of 2006, they wrote and recorded ten new songs.
Light At The End Of The World
confirms Erasure's status as one of the U.K.'s most successful songwriting duos of all time. With over 32 top forty consecutive hits to date, this new collection of songs will surely continue Erasure's already outstanding legacy.
Track By Track
:
Sunday Girl
Vince: This one flowed out very naturally in that hotel room in Maine. We would only write in the afternoon because I've got a new baby [Oscar] and so had to get back home each night. The chord changes and melody seemed to work really well. We didn't have to think about it, and we knew what the chorus would be. It reminds me of
The Kinks
; I can imagine
Ray Davies
singing it in a ridiculously OTT cockney accent. Are the songs influenced by the music hear? Well, my kid's 15 months old so the only 'band' I'm listening to are The Wiggles! I didn't know that it would be the album opener. Where the tracks go on our albums I don't care. Andy does all of that. That would mean I'd have to listen to the whole album from beginning to end and I haven't done that in years!
Andy: It's a
Bacharach
-type song with a big chorus. It's quite old-fashioned, like
Neil Sedaka
's Calendar Girl.

I Could Fall In Love With You
(Single)
Vince: This is one of the few songs that existed in part before the Maine hotel room writing sessions. Before we started this album, I was really keen for it not to be mid-tempo - I'm having a mid-tempo crisis! Our albums seem to have got slower and slower, so I started searching for classic funk or disco basslines, put some ideas together with chord changes and basslines underneath, and emailed them to Andy for him to sing over the top. The song, like this album, is quite 'up' and uptempo because we're both in good spaces right now. I've had a baby and Andy's in love - I mean, I'm in love as well! But all those things are bound to come out. Not to say, "I've just had a baby" in a song. But in the way that you feel, and the way the track moves along.
Sucker For Love
Vince: This is sort of uptempo electro-gospel. It's a really hard and ridiculous yet cool title. It's our most uptempo track and it sounded very gospelly from the beginning. Myself and Gareth the producer wanted a gospel chorus - very fast and furious. Andy did the vocals - he's great at backing vocals; he always comes up with something completely different. Once we've got a tune, I come up with a rough draft on the computer - a bassline, some chords, a drum pattern - then I'll send it to Andy and he'll sing a more correct vocal. After the Maine writing sessions, we spent four weeks in Falmouth outside Portland in a holiday home, where we set up a studio and got down to the nitty-gritty of finessing the parts and doing the overdubs. We could have gone to a regular studio, but Gareth was already staying there, so it made sense. Besides, you don't need 17-foot speakers anymore.
Storm In A Teacup
Vince: No, it's got nothing to do with the Lynsey De Paul song! I can't remember much about writing the melody, but lyrically it's very brave of Andy because he talks about his mum and her drink problem. I'm very moved that he was brave enough to put that in a song. I would never have done it - not that my mum has a drink problem! But even if she had. Is that level of autobiography rare for Erasure? Yep. That's the most personal song we've ever done. But like I say, mostly it's a very optimistic album, very up and forward-thinking and -looking.
Andy: The song is about my family and my mum's addiction to alcohol and seeing her demise from it; she's poorly all the time. I don't think there will be any point that she stops now because she's gone on for too long. But she's really hardcore and got quite a punk ethic. You always think your mum's trying to teach you something. But you can't take it personally because it's her choice. I felt a bit weird having it on the album - I wanted to shy away from it because I don't want to hurt her by having it on there. But she probably won't even hear it. Am I the open, emotional one in Erasure? Really it's the opposite of what people think. If we go out, Vince is the one who gets trashed really quickly and doesn't care, and I'm the one who makes sure he gets home safely. It's me that won't let go in the end.
Fly Away
Vince: That was a song I really didn't want to do. But Andy was insistent because he loved the tune. I wasn't sure the tune was strong enough. He was right, though: the chorus is uplifting and has a crescendo ending: Andy sings one soaring note over a couple of chords and there's a huge drum sound underneath. It sounds very epic. It's one of only two songs on the album that was pre-planned; the rest were written in that hotel room with a micro-cassette. Andy was in Portland for two weeks on his first trip, then he came over for an extra week. After that initial phase we realized we didn't have enough strong ideas, but we were getting better towards the end, and we wanted the album to all be great, so we did another week's writing. Then we did the recording - I did the programming to get the ideas down, but the bulk was done in four weeks. The post-production and Andy's vocals took about four weeks. In all, the album took three months.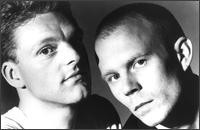 Golden Heart
Vince: I actually don't remember this one! We had so many ideas, and they all had numbers - Andy added the titles later on. I don't get involved in that unless he comes up with something terrible! My megalomania doesn't extend to the titles, I just like having total control of the music. But I can't sing - Andy has to sing the lyrics. So we've found our little niches. But it works the other way: if there's something he doesn't like musically, I'll change it and he'll come up with a really good musical idea. We've been together for 22 years, so it's not like we're embarrassed anymore. We've learned not to be precious. If one of us doesn't like the idea, it's not worth the other person fighting for it. Because Andy will never sing it well, and I'll never do a great arrangement for it.
Andy: My favorite part of any album is doing the vocal arrangements because it makes me feel like a musician. I love the backing vocals here: very '40s.
How My Eyes Adore You
Vince: This is a bit of a midtempo crisis song, really. Daniel Miller [Mute boss] came over to hear the songs and he recommended which bits to leave in and take out. It's a real singalong football crowd song. Do they sing Erasure on the terraces? I've heard of Respect being played in the States during football matches. I don't know if we've got the common touch. I like to think people like our songs because they're simple. People certainly sing them in concerts. On our last tour, at the Hammersmith Odeon, halfway through the show the entire audience sang Respect from end to end. We had to stop while they sang it. It was so nice, so flattering.
Darlene
Andy: This came out of our second writing session. I really like the melody. But it's not really close to my heart. Darlene isn't anybody specific; it's just made up. The melody reminds me of [
Madonna
's]
La Isla Bonita
. It's a Taurean trait: picking up bits of songs and using them - there are a few examples on this album. I have to watch it when it comes to words: I get really repetitive because I don't read enough! I've written some really good songs but I would love to write more personal, hurting stuff. But I'm too cowardly. You always feel like your next album is going to be your
Blood On The Tracks
.
When A Lover Leaves You
Andy: This song is about celebrating the love, even as things change for better and worse, because when you've been in any loving relationship for a long time, you have such a strong bond, it's almost spiritual. A new person may come into your life, and that depth isn't necessarily there but it's really exhilarating and you feel like life's started again.

Glass Angel
Andy: This is a weird one. Vince sent me an early rhythm track for it, before we started the writing sessions. It's a really magical song. It's also quite
Donna Summer
-ish, but it leads on from
Rock Me Gently
on the Erasure album [1995]; it's like Part 2 of that. I love Vince's ambient stuff. Performing with him is like having a holistic massage with sound.
"I Could Fall in Love With You" Streaming Video:
Windows Media
|
Real Media
|
Quicktime
"I Could Fall in Love With You" Streaming Audio:
Windows Hi
|
Windows Lo
|
Real Hi
|
Real Lo
-
Erasure on Starpulse
-
Official Site
-
Erasure on MySpace
(Streaming audio and/or video links may expire without notice)