British Glamor Model Keeley Hazell Sickened By Links To Movie Massacre Gunman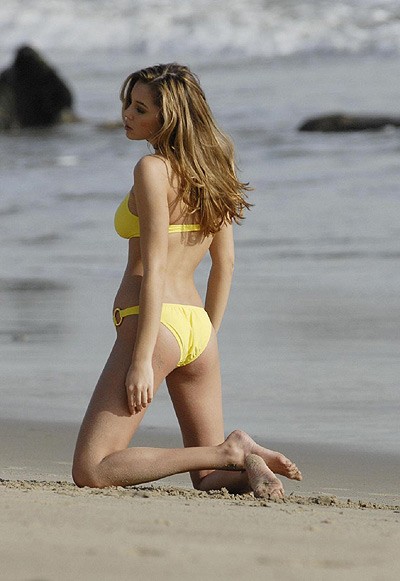 British Model Keeley Hazell has spoken out about her unwilling association to the man who killed 12 patrons and injured another 52 at a crowded movie theater in Aurora, Colorado during a midnight screening of The Dark Knight Rises Friday morning.

The gunman, James Holmes, photoshopped Hazell's image onto his AdultFriendFinder.com profile so that she appeared to be looking over his shoulder and licking her finger.

"It's chilling and has shocked and disgusted me. The whole thing is so weird," she tells Britain's The Sun.

"That picture is from a magazine shoot I did a long while ago and I can't believe such a weirdo has it on his profile page," she adds. "The whole thing is sick - but nothing to what the people of Aurora must be going through. My heart goes out to them."

The eerie shot shows Holmes, who made his first appearance in court on Monday, with the dyed red hair he had when he committed the heinous crime. The hearing was just a pre-trial formality to inform the cold-blooded killer that he's being held on suspicion of first-degree murder.

New York's Daily News reports that during his first night in jail the other prisoners chanted "kid killer"; while an employee said he hasn't shown any remorse.

Wayne Medley, who was released from the facility on Saturday, said that decision of the staff at the Arapahoe Detention Center to put Holmes in solitary confinement was a good one.

"All the inmates were talking about killing him," Medley said. "Everyone was looking for an opportunity. It's all they could talk about."