British Artist Jonathan Yeo Debuts Nude & Pregnant Portrait Of Sienna Miller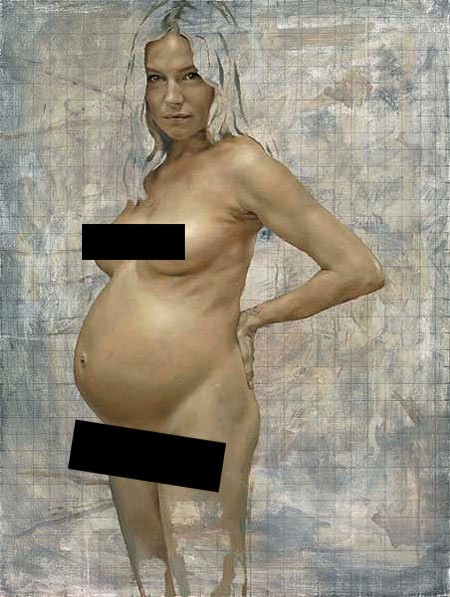 A new painting of a very pregnant and very naked Sienna Miller done by British artist Jonathan Yeo has been unveiled as part of an upcoming exhibition in Berlin, Germany.

The star of HBO's new film The Girl; which documents the relationship between Alfred Hitchcock and Tippi Hedren; agreed to take it all off for the artist shortly before giving birth to daughter Marlowe in July as a way to document her pregnancy. The photo is a part of Yeo's "(I've Got You) Under My Skin" exhibit.

"I wanted an image that epitomised the human body in its most naturally beautiful state to make the sharpest possible contrast with my other paintings in this exhibition, which document patients undergoing cosmetic surgery in a bid to help them conform to societal notions of beauty..." Yeo says in the exhibition catalog.

Yeo also compares his painting of Miller to legendary photographer Annie Leibovitz's infamous pregnant nude photo of Demi Moore on the cover of Vanity Fair 22 years ago.

He says that since then "society has become almost completely desensitised to the daily exposure to people who have surgically distorted their appearance for artificial reasons."

"Yet certain sections of society are still uncomfortable with the appearance of pregnancy and images of naked expectant mothers are rarely seen," he says.

So why Sienna Miller?

"The power of the painting partly lies in the fact that Sienna is widely regarded as being one of the most naturally beautiful actresses in the world, as well as being a fashion icon to a generation of girls," he says. "It is a tribute to her courage and self-confidence that she agreed to sit for this. I can think of many figures whose public currency in part revolves around their appearance, who would prefer to hide themselves away for nine months."

Yeo's "(I've Got You) Under My Skin" exhibit opens at the Circle Culture Gallery in Berlin on Friday and runs through January 12. (See the uncensored NSFW version of the painting on Yeo's official website).