Bring Me The Horizon's Oli Sykes Speaks Out About False Identity Murder Plot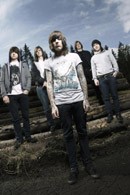 Bring Me The Horizon frontman Oli Sykes has expressed his well wishes to the family of a young girl who was kidnapped and stabbed by a man pretending to be him on Facebook.com.

In April, California resident Maricar Benedicto, 19, was lured to England under the impression she was to meet Sykes after allegedly making contact with him over the Internet. 
However, upon arriving in Northampton, she was blindfolded and taken to a secluded forest by 20-year-old David Russell, where she was assaulted and stabbed. Benedicto managed to escape and report the incident.

On Wednesday, sick Russell was sentenced to serve at least 17-and-a-half years behind bars for the attempted murder and kidnapping. And Sykes has now spoken out after learning about the twisted plot, warning fans to be wary about meeting people online.

In a statement, he says, "I woke up to the news in LA, and didn't really believe it at first. It's very unsettling. I'm aware that people have used my identity for pranks and whatever, which has always been something that's been uncomfortable for me, but for something like this to happen is terrifying. My heart goes out to Maricar and hope she recovers soon."

"I would also urge anyone using social networking sites about a really great foundation called the Carly Ryan Foundation. Carly suffered a fate worse than this case but the story isn't worlds apart. The foundation was set up to raise awareness and educate people on the risks of meeting people online."

"Stay safe and be careful."