'Bring It On: Fight To The Finish' Comes To Blu-ray Hi-Def And DVD Sept. 1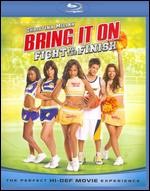 The all-new installment of the global hit cheerleading franchise,
Bring It On: Fight to the Finish
comes exclusively to Blu-ray Hi-Def and DVD on September 1, 2009 from Universal Studios Home Entertainment Family Productions and Beacon Communications. Showcasing daring athletics, fierce competition and hot young stars, including Grammy-nominated recording star and actress
Christina Milian
, "Bring It On: Fight to the Finish" sets the bar higher than ever with the story of an East Los Angeles teen who reinvigorates a lackluster Malibu cheer squad with her scorching Latina style.
For the first time, the signature acrobatic moves that have won the
Bring It On
films worldwide acclaim will be presented in pristine high definition. And, with Blu-ray Hi-Def's pure digital sound, fans can enjoy the film's music from
Lady Gaga
, Christina Milian,
Kat De Luna
and
The Veronicas
. In the director's chair is Bille Woodruff, one of the industry's most sought after film and music video directors. Having directed
Beauty Shop
with
Queen Latifah
and
Honey
starring
Jessica Alba
, as well as music videos for artists including
Britney Spears
,
Enrique Iglesias
,
Prima J
,
Paula Deanda
,
Lil Wayne
and
Usher
, Woodruff brings a fresh perspective to the franchise.
The film is executive produced by longtime Beacon partners Charlie Lyons and Armyan Bernstein and produced by David Buelow, David Brookwell and Sean McNamara. Tony Gonzalez, choreographer of
Bring It On: All or Nothing
and Bring It On: In It to Win It returns as associate producer and choreographer to create the franchise's most astounding dance sequences yet.
A thrilling combination of high energy fun, rivalry and heartwarming romance have made the "Bring It On" franchise a runaway hit in home entertainment, racking up sales of almost 12 million units in North America alone, representing nearly $300 million in consumer spending. The series continues to be a marquee property in Universal's DVD Originals line of high-quality feature films created especially for the growing made-for-DVD market. Since their introduction in 2005, Universal DVD Originals have been an unprecedented success, responsible for four of the top five best-selling live-action, non-family DVD premieres of all time, including
Bring It On Again
and
Bring It On: All or Nothing
.
Christina Milian, who was recently seen in the film
Ghosts of Girlfriends Past
, opposite
Jennifer Garner
and
Matthew Mcconaughey
, leads a talented squad of newcomers in "Bring It On: Fight to the Finish". In addition to Milian, the film stars Rachele Brooke Smith,
Cody Longo
, Holland Roden, Nikki SooHoo, Meagan Holder,
Vanessa Born
and Gabrielle Dennis, as well as Janelle and Jessica Martinez, also known as the red-hot musical duo
Prima J
.
For the ultimate fan, the "Bring It On All-Star Pack", containing the hugely popular films "Bring It On", "Bring It On: All or Nothing" and "Bring It On: Fight to the Finish" will also be available on September 1st. In these films, some of Hollywood's young hottest stars - including Christina Milian,
Kirsten Dunst
,
Gabrielle Union
,
Eliza Dushku
,
Hayden Panettiere
,
Solange Knowles
-Smith and recording star
Rihanna
- show they've got all the right moves in their spirited quests for victory.
"Bring It On: Fight to the Finish" on Blu-ray Hi-Def and DVD comes with bonus features including:
- Deleted Scenes
- Practice Round: Join choreographer Tony G as he teaches cheer routines to the cast of "Bring It On: Fight to the Finish".
- Back Stage Pass: Get a behind-the-scenes look at the making of the film, from cheer camp through production.
- On Set With Christina Milian: An interactive video diary shows viewers what it was like for Christina Milian to make "Bring It On: Fight to the Finish" from her own perspective, using footage shot by Christina herself.
- MUN2: The Chicas Project: "Flip This": Watch an episode of "The Chicas Project" in which the Chicas go to cheer camp in Texas.
Exclusive-to-Blu-ray Hi-def bonus features include:
- Bd-Live: Access the BD-Live Center through your Internet-connected player to get even more content, watch the latest trailers and more!
In the all-new movie "Bring It On: Fight to the Finish", East Los Angeles high school cheer squad captain Lina Cruz (Milian) and her best friends Gloria (Born) and Treyvonetta (Dennis) have high hopes of winning the Spirit Championships with the team's fiery fusion of Latin and hip-hop moves. Instead, Lina's world is turned upside down when her mother remarries and her family relocates to Malibu where she is forced to adjust to a new home, a new stepsister (Holland Roden) and a new school with a less-than-stellar cheer squad. Always ready for a challenge, Lina takes on the daunting task on transforming the Malibu Vista High Sea Lions cheer squad into a championship team, but she will have to get past the award-winning Jaguar cheer squad and their captain, Avery (Smith). Lina's budding romance with Avery's brother Evan (Longo) only intensifies the rivalry. With the stakes higher than ever before, Lina devises a bold plan that could blow the Jaguars right off of the competition floor and lead the Sea Lions to victory!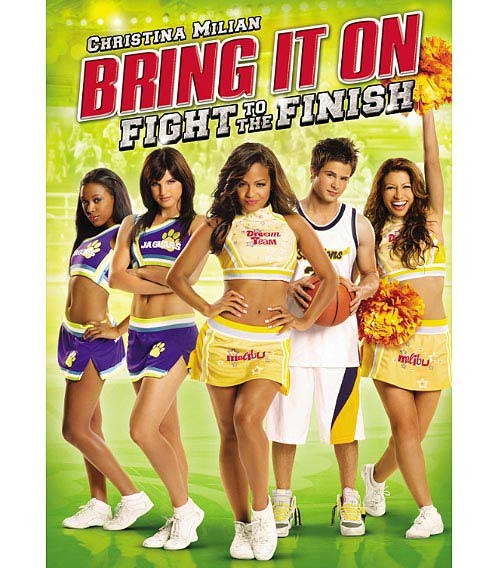 Image © Universal Studios Home Entertainment
The Universal Studios Home Entertainment Family Productions banner, which includes Universal Animation Studios, develops and produces live-action and animated family productions directly for the home entertainment and television markets. Among the group's portfolio of prized properties is The Land Before Time, the most successful feature-length children's home entertainment franchise of all time, having earned more than one billion dollars worldwide to date. Since its formation in 2005, the group has built an exceptional slate of family fare, including the all new DVD Original release Bring It On: In It to Win It, the latest winning installment in the hugely successful Bring It On film franchise; the highly popular action-adventure epic Scorpion King 2: Rise of A Warrior; the Daytime Emmy®-winning "Curious George" television series on PBS KIDS; a string of Barbie movies, based on the world-renowned Mattel-branded doll; and Beethoven's Big Break, based on the beloved family franchise. Universal Studios Family Productions is part of Universal Studios Home Entertainment.
Universal Studios Home Entertainment is a unit of Universal Pictures, a division of Universal Studios (www.universalstudios.com). Universal Studios is a part of NBC Universal, one of the world's leading media and entertainment companies in the development, production, and marketing of entertainment, news, and information to a global audience. Formed in May 2004 through the combining of NBC and Vivendi Universal Entertainment, NBC Universal owns and operates a valuable portfolio of news and entertainment networks, a premier motion picture company, significant television production operations, a leading television stations group, and world-renowned theme parks. NBC Universal is 80%-owned by General Electric, with 20% owned by Vivendi.