Bridge In Aberdeen, Wash. Won't Be Named After Kurt Cobain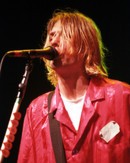 City officials in Kurt Cobain's hometown have rejected a motion to have a bridge named in his honor amid fears the tribute will memorialize the tragic rocker's drug use.

Fans of the Nirvana frontman recently petitioned councilors in Aberdeen, Washington to see if they would favor the renaming of Young Street Bridge over the Wishkah River and a nearby pocket park to Cobain Bridge and Cobain Landing.

But on Wednesday, City Council members officially voted against the bridge proposal because many believed the act would send out the wrong message and invite negative comments about Aberdeen.

However, council members did approve the renaming of Cobain Landing, according to the Associated Press.

Cobain committed suicide in April, 1994.