Brick Tamland Commandeers Weather Report On British TV Show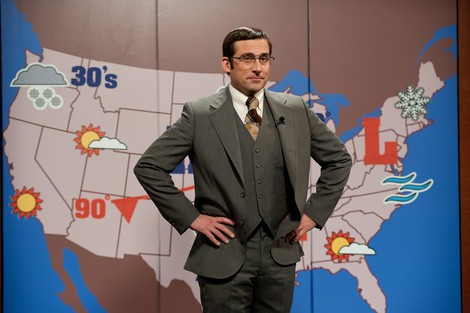 On Wednesday, Anchorman star Steve Carell showed off his impressive weather presenting skills after hijacking a broadcast on a U.K. television show.

The 51 year-old comedian, who plays weatherman Brick Tamland in the smash hit comedy and its latest sequel, was being interviewed on morning news program Daybreak when he took his chance to tell viewers about the daily forecast.

Interrupting the show's weather girl Laura Tobin during her segment, he explained Britain could expect heavy fog and clouds, before mocking the presenter, joking, "You're all over the place! This is the hardest job in the world."

According to the Dailymail, Steve also revealed he never thought his one-liners would catch on, saying: "When you say 'I love lamp' in a movie, you don't think that'll be [a catchphrase]!"

And on rumors of an Anchorman stage show, Steve admitted he would love to see a musical happen.

Anchorman 2: The Legend Continues, also starring Will Ferrell, Paul Rudd, David Koechner and Christina Applegate, will be released on December 18th.