Brian May Attacks Golf Club Over Fox Killer Controversy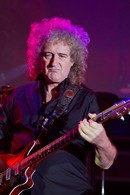 Queen star Brian May has blasted officials at a Scottish golf club for refusing to ban a member who attacked a fox on the course.

The guitarist, who is a keen British wildlife conservationist, was appalled when he learned oil tycoon Donald Forbes had clubbed the fox and left it for dead after the creature stole a wafer biscuit from his cart.

Another golfer playing a round at the Peterculter Golf Club in Aberdeen was forced to put the animal out of its misery, according to Scotland's Daily Record.

Forbes was fined $1,200 and suspended by the club, but his membership was reinstated nine months later.

Protest group Fox Watch have called for him to be banned for life, and staged a protest at the club over the weekend.

Supporting the protest, May said, "This club have (sic) the opportunity to show their disapproval in an appropriate way - by banning this unsavoury character for life. But they seem to be unready. Shame on them."