Brett Ratner Apologizes For His Olivia Munn Comments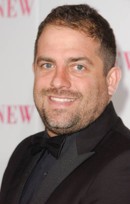 Moviemaker Brett Ratner has publicly apologized for remarks he made about having sex with TV presenter and actress Olivia Munn.

The director was a guest on TV program Attack of the Show, which was previously hosted by Munn, last week when he was asked to comment on reports suggesting he is the mystery subject of salacious and unsavory stories in the Iron Man 2 star's memoirs.

He revealed, "I used to date Olivia Munn... when she was Lisa... She was hanging out on my set of After the Sunset, I banged her a few times... but I forgot her. Because she changed her name... I didn't know it was the same person."

"So when she came and auditioned for me for a TV show, I forgot her, she got p**sed off and she made up all these stories about me eating shrimp and masturbating in my trailer. And my shortcomings. She talked about my shortcomings. I get it. She's bitter."

Munn has yet to respond to Ratner's comments, but the filmmaker apologized during an appearance on Howard Stern's satellite radio show on Monday. Ratner insisted he was lying about having sex with his "friend" Munn and added he is not the unnamed director with the "undersized manhood" she writes about in her book.

He explained, "She's actually talented. The problem is I made her look like she's a whore."