Bret Michaels To Rework 'Every Rose Has Its Thorn' With Loretta Lynn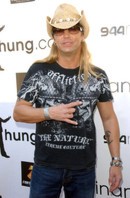 Poison rocker Bret Michaels is set to revamp his classic ballad "Every Rose Has Its Thorn" with country queen Loretta Lynn for a new album.

Michaels recorded the track in 2010 with Miley Cyrus and now he's eyeing another duet with the Coal Miner's Daughter singer for Get Your Rock On.

He tells RollingStone.com, "Loretta Lynn and I are gonna redo 'Every Rose Has Its Thorn' together. For me, growing up in a family that loved country music... this is gonna be a really awesome time.

"I met her at Thanksgiving and it was really great. We were out at her ranch in Hurricane Mills (Tennessee) and we sat there, me and her, and after everyone, the whole family and my crew sort of dissipated, we sat there and started writing some songs together.

"One of the ideas she had was redoing 'Every Rose Has Its Thorn' and I thought it would be unbelievable for me and her to do that together."

Jimmy Buffett and Def Leppard's Phil Collen will also join Michaels on his new album.