Bret Michaels Shines On Last Night's 'Celebrity Apprentice'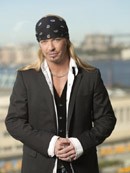 It was hard to watch "The Celebrity Apprentice" last night without thinking about Bret Michaels' current health problems. After suffering a brain hemorrhage last Thursday, the rocker is still in ICU, while the doctors continue testing, according to his website, Monday morning. With this lingering in the back of viewers minds, it was nice to see an episode where everyone brought their A-game and collectively raised nearly $350,000 for charity.
I can't say I was expecting a happy ending from an episode that began with Barron, the youngest Trump, golfing on a roof. It's amazing how someone so young has already perfected that sour-faced look of judgment and superiority that is unmistakably Trump. It clearly won't be long before Barron sits in as one of his daddy's 'eyes and ears.' Until then, he's there to demonstrate the importance of both mental and physical fitness (because golf is so physically demanding). It's a stretch, but it leads us to the next task:
Design a workout class for a 24-hour fitness center, sell tickets to the class, and have people show up to represent each spot in the class.
The teams have been reshuffled and Rock Solid now consists of Bret, Maria from WWE, and Project Manager, Sharon Osbourne. Tenacity is PM, Holly Robinson Peete, Curtis Stone, Summer Sanders, and Cyndi Lauper, who will be out the first day because of important business with Lady Gaga (ooh la la).
It is quickly apparent that one team is serious and one team is silly. (The team names say it all.) Tenacity comes up with a rigorous Buns & Guns workout while Rock Solid puts together a creative class with a rock and roll theme. Sample exercises include the Tour Bus Thrust and Praying to the Porcelain God. 
Curtis fits right in with Tenacity's all-work, no-play approach to the game mitigated only by Cyndi's inherent Cyndi-ness. For example, her response (in an interview) to Holly's demands that she raise $30,000:
"You know I don't roll with the high rollers. Like I can't even call David Hasselhoff, who I meet occasionally in the oddest places. [First] time was  Hawaii. Next time I was working in Paris and there he was. And then I was working on the Apprentice and there he was. And then one time I was talking about him, I turned around and I saw a man that looked just like him… but wasn't. So it was kind of a Hasselhoff sighting."
Imagine it with Cyndi's accent and dramatic style of storytelling, and you'll understand why this was easily the best part of the episode. Also in the 'She's So Random' category is Cyndi's news that she called both Yoko Ono and Harvey Fierstein (who is a question mark since he was bit by a dog). Completely nonsensical. Completely amazing.
Other than that, Tenacity is as boring as Sharon predicted they would be a few weeks earlier.… and cheap ploys to create drama don't make it better. Did anyone really think that Holly's $50,000 donation was not going to be faxed in time?
Rock Solid has more fun, practicing their rock star exercises and just being relaxed and silly. Maybe a little too relaxed at times… i.e. Bret at the printers when he sees spelling and grammar errors on their handout and could not care less. Rock stars are sloppy and imperfect animals and these promotional materials don't suggest otherwise.
Maria (whose "title" is WWE diva) is in charge of creating the workout from all of Bret's rock star moves. Meanwhile, Sharon goes to the WWE where Ozzie happens to be doing an event that night and picks up a cool $30,000 donation. Bret is responsible for finding bodies to fill in for the donors and he hits up the "smoking hot messes" from 'Rock of Love' seasons past. Just more women for Bret to endorse as attractive in interviews… in addition to the fitness rep, graphic designer, WWE diva… The admiration from fans is clearly reciprocated though, with one overzealously propositioning him, explaining that he's one of her five and her husband can't get mad if they sleep together. Taking advantage of this loophole in her marriage vows, she later straddles Bret in the middle of the exercise class, a move that's a little risqué for the 24-hour fitness rep. Nonetheless, the rep finds the class to be creative and fun, and the people seem to be having fun.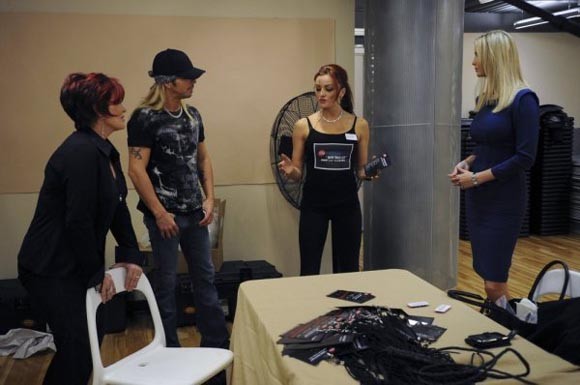 Like everyone else in the world, we'll skip anything having to do with the Tenacity class and jump right to the boardroom.
First, Rock Solid won the $24,000 prize from the fitness center for coming up with a creative, fun workout class. Trump asks each team if they think they won the overall challenge. Sharon does and tells Trump how much she loves her new, sillier team.  Holly hearts her team but thinks that Sharon has the Queen of England, Sting, Springsteen, and Sir Elton John on speed dial so she probably won. Sharon looks surprised by this newsflash, and even more surprised to hear about Holly's $50,000 donation from philanthropist (and friend of the Donald) Ron Berkle.
The results are announced: Rock Solid raised $131,803… but Tenacity raised $206,090.
Holly wins and is awarded $347,893 for her charity. It's the largest amount of money raised in non-finale 'Apprentice' task, and Holly shares that it is being earmarked to build an autism treatment center in LA.
Trump tries to bait Cyndi into saying she hates Maria and says he wants to fire someone like a dog. Then he moves on to the losing team. Who should be fired? Why didn't Bret raise money? Is Maria not famous enough to continue? Does Sharon want to go home?
And just because Holly Robinson Peete was borderline likeable throughout the episode, she jumps in and "tittle-tattles" that Sharon said she wanted to go home the other day. Sharon knows Holly can't help herself so she's not mad, but assures Mr. Trump that she does not want to go home. Holly backpedals, saying that the person who raised the least should be fired. That was Bret but Sharon says it wasn't his job and Trump doesn't want to fire him anyway. The Donald makes one last attempt to find someone who will tell him to fire Maria, but no one does. The only one left to fire is Sharon, and he doesn't want to do that either. Not when snoozes like Summer and Curtis are still around.
So Trump finds/creates his own loophole to the rules of the 'Apprentice' and decides that since Sharon singlehandedly raised $130K for Holly's charity and collectively they raised almost $350K, no one is going to get fired.
Yay! Hooray! Holly and Sharon hug. Holly says she's going to cut a check to Sharon's charity. Cyndi is thrilled and walks out with her arm around Holly. Everyone is hugging and tour bus thrusting and things are wonderful.
From the previews, it's clear the love-fest does not continue for very long. But we won't think about that yet, and concentrate instead on the happy ending to this week's episode and wishing Bret Michaels well in his recovery.
Story by Elissa Farkas
Starpulse contributing writer