Bret Michaels Promises To Revamp Hospital Waiting Room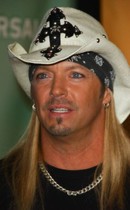 Bret Michaels has pledged to donate TVs and sound systems to revamp a waiting room at the hospital where he underwent treatment for a brain hemorrhage last year.

The Poison star was treated at St. Joseph's Hospital in Phoenix, Arizona after he suffered bleeding on the brain last April, and he checked into the facility again in January for an operation to fix a hole in his heart.

Michaels will now have a waiting room at the hospital named in his honor after announcing plans to donate equipment so families will be able to relax by watching TV and listening to music. The room will be named the Bret Michael's Hospitality and Music Room.

The star says in a statement, "I want to give something back to the hospital that helped save my life. Phoenix is my home and I'm proud to be a part of this community."

St. Joseph's President and CEO Linda Hunt adds, "This room will be a very welcome addition for the families of our patients. Bret has demonstrated that he is a good friend to this hospital in several ways and we thank him."