Bret Michaels Cracks Jokes & Wins For Charity On 'Celebrity Apprentice'

Last night's 'Celebrity Apprentice' was dedicated to Bret Michaels, who continues to recover from an April 22 brain hemorrhage. In a statement released Friday, Michaels' doctor said that the Poison front man was expected to make a full recovery thanks to his 'undeniable' will to live. This episode showed the rocker to be a determined leader who will fight for his vision and strongly advocate for plumbers' cracks. It was Bret Michaels at his most undeniable.

So about those plumber's cracks…

After not firing anyone last week, Trump warns that one (or more) of the remaining celebs will go home if they lose this week. The task is to create live radio spots for three Clockwork Home Services companies. Bret is Rock Solid's team leader and Summer Sanders is Tenacity's Project Manager.  

Both teams meet with the new winners of the award for 'Most Humorless Executives on the Apprentice' and find out that (shocker!) they don't want to use humor and are particularly sensitive about making their plumbers 'the butt of any jokes.' Based on this, Rock Solid takes their jokes and double entendres down several notches and brainstorm ideas for each ad. Despite Sharon Osbourne's objection, Bret decides to keep one crack about plumbers in their ad, and promises that he will take responsibility if it flops. Overall, the dynamic is good and the team works well together.

Over at Tenacity, Holly thinks that the secret to good advertising is solid 'in the box' thinking. Creative minds need to be harnessed and wild animals like Cyndi Lauper belong in cages or playpens. Despite Summer's title of Project Manager, Holly is the Alpha of the group, and successfully manages to keep creativity from interfering with her power trip. Summer (per Holly's influence) assigns each team member one of the ads, and puts Cyndi in charge of the music and jingles. The Grammy Winner is amusingly horrified by the fact that she is writing jingles, and genuinely horrified by how lame her teammates continue to be.

Despite her best efforts, Cyndi Lauper is powerless to stop the 'Girls Just Wanna Have No Fun At All' Team from self destructing. Their ads completely lack personality and are so bland that even Curtis suggests adding a little spice, or sizzle, or flavor of any kind. But he's Australian and Holly thinks safe is good, so he loses. Holly also thinks Cyndi should leave the jingle-singing to 'the professionals.' Fortunately, Summer manages to overrule this one opinion and lets Cyndi sing. It's the right decision and just about the only thing the executives liked about Tenacity's ads.

After hearing both teams' radio spots, it's pretty obvious that Rock Solid has won. Even a crack about plumbers can't take away their well-deserved victory. The executives were practically giddy after the ads, proclaiming that they needed to hire Bret Michaels as a sales guy.

In the boardroom, Trump confirms that Rock Solid is the clear winner and Bret gets $40,000 for his charity, the American Diabetes Association & Bret Michaels Fund.

Therefore, someone from Tenacity is going home. Sharon and Maria both hate Curtis and want him gone. Bret puts the responsibility on the PM. They return to the suite and the firing gets underway.

Summer inexplicably calls Holly the strongest member of the team, even though every single thing she told her to do contributed to the team's loss. (Seriously Summer, what kind of dirt does HRP have on you?!?) Trump decides Cyndi was his MVP, and this leaves Summer and Curtis to fight it out. Summer can't come up with one reason to fire Curtis other than the fact that he's Australian and she wants to stay. Ivanka gives her a few reasons she might have offered in her own defense, but it is too late and Trump snaps into cobra mode and delivers a sharp "Summer, Your Fired!"

Next week, the final six celebrities are shuffled around again. It's getting down to the finale, and Bret looks like a strong contender to win the whole thing. Hopefully his recovery will echo his performance on this show, and each week he'll get better and better.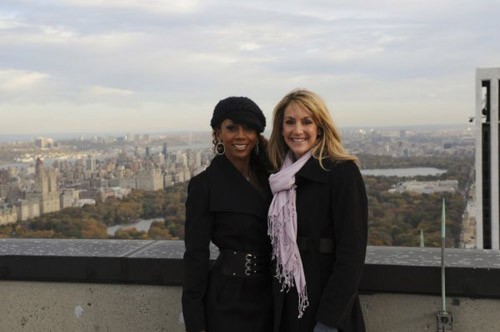 Story by Elissa Farkas
Starpulse contributing writer