Brenda Song And Trace Cyrus Not Rushing To The Altar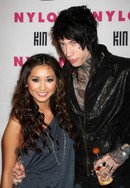 Miley Cyrus' half-brother Trace is in no rush to wed his fiancee Brenda Song - because they already feel like a married couple.

Rocker Trace Cyrus proposed to The Social Network actress in October, and although he favors a rock 'n' roll-style ceremony in Las Vegas, he reveals he's letting his bride-to-be take charge of the plans so she can have the wedding of her dreams.

He tells People.com, "I want to have a Vegas wedding. But she (Song) doesn't want to do that, of course. Every girl wants a big, beautiful wedding. And, at the end of the day, I'll do whatever she wants."

But that doesn't mean the pair has made much progress with their impending nuptials - Cyrus and Song are happy taking their time to organize their big day.

He says, "When I asked her (to marry me), I told her, 'I don't care if we get married tomorrow, two weeks from now, a year from now or 10 years from now; it doesn't matter.' We feel like we're almost married right now... I'm happier than I've ever been."