Breaking Down The 'Celebrity Apprentice' Season 3 Cast (Photos)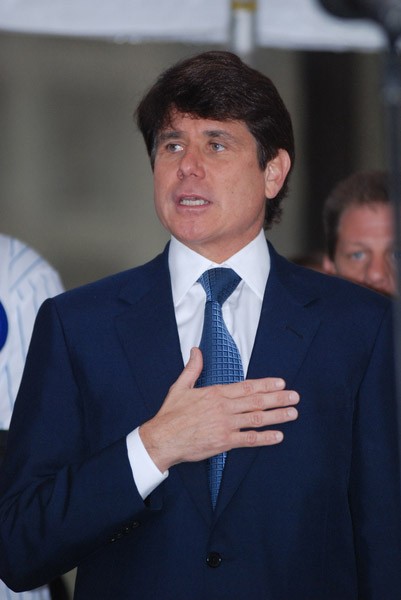 Another season of
The Apprentice
, another Celebrity version. While it would be nice for
Donald Trump
to help out our unemployment numbers by actually hiring someone via the show, he has quite an interesting group of celebrities to deal with this season.
Rod Blagojevich:
Included because the producers knew the announcement would make a splash (and it did), don't expect the former Illinois Governor to last very long. Remember,
Khloe Kardashian
was fired for a
DUI arrest
last season. Expect Rod to scrape together some cash for charity, then get ousted during a bully pulpit from The Don.

Darryl Strawberry:
While athletes can get cash from fans they meet in person, they usually have some trouble getting large donors from their network of friends. Unless a Steinbrenner gets involved, Darryl is a long shot.
More Darryl Strawberry Photos

Cyndi Lauper:
She's been slowly working her way back into the spotlight, including a duet on
American Idol
's live finale and a campaign with
Lady GaGa
. She's got a shot, especially if she uses her music contacts appropriately.
More Cyndi Lauper Pictures

Sharon Osbourne:
The odds-on-favorite. After having her own reality and talk shows, not to mention sharing
America's Got Talent
with previous Celebrity Apprentice winner Piers Morgan, Sharon has a very recognizable name and temperament.
Sharon Osbourne Gallery
Michael Johnson:
Tough because not only is he an athlete, he's an Olympic athlete. Plus, he's not the fastest man in the world anymore. Sorry, MJ.

Holly Robinson Peete:
Er, um... who? Look, she did the intro music to
Hangin' With Mr. Cooper
(as well as star in it)... but, uh... where was I going with this? Oh yeah, she has no shot at winning.
More Holly Robinson Peete Photos

Bret Michaels:
A close second place to Sharon Osbourne, although his reality career has been less... family friendly. Two hopes: his hat gets blown off somehow so we can finally see his bald melon, and he pulls out an acoustic guitar to play "Every Rose Has Its Thorn" to save himself from being fired.
More Bret Michaels Pictures

Goldberg:
Certainly a wildcard, it will be very interesting to see how Bill Goldberg comes across in a business setting. If he can get
Hulk Hogan
to appear at one of his events, he can go far.
Goldberg Gallery
Carol Leifer:
She definitely has connections (
Jerry Seinfeld
) and a lot of money (she owns a $3.2 million house). But comedians can be a mixed bag on The Apprentice, as they are apt to make humorous quips about the other contestants that can land them in hot water.

Sinbad:
Maybe the appearance fee and tax write-offs for charity work will help with his alleged $8 million debt, but I can't imagine Sinbad winning the competition. However, if his self-aware appearance on
It's Always Sunny In Philadelphia
is anything to go by, it will be a good time while it lasts.
More Sinbad Photos
Summer Sanders:
A recognizable name for some sports fans, Sanders has a background in charity (she's a UNICEF Goodwill Ambassador) that ought to help.

Maria Kanellis:
The requisite eye candy for the show. Of course, that doesn't mean she'll go far:
Tiffany Fallon
, the Playboy Playmate from the first Celebrity Apprentice season, was fired in the first episode.
More Maria Kanellis Pictures
Curtis Stone:
Big problems here. Not only is he a celebrity chef, he's not really in the pantheon of most notable celebrity chefs. He should shine in any sort of food-based challenges, though.

Selita Ebanks:
Like Maria, she's going to have to overcome the "problem" of being good-looking. Her success may depend entirely on whether or not she can get other Victoria's Secret Angels to show up.
Selita Ebanks Gallery
Story by
Casey Johnson
Starpulse.com contributing writer