'Breaking Dawn' Hauls In $284 Million Around The World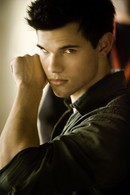 The latest Twilight movie has landed the biggest global debut in the film franchise's history thanks to a massive $284 million weekend haul.

The Twilight Saga: Breaking Dawn - Part 1 opened with almost $140 million at the U.S. box office over the weekend, but the sequel has doubled that amount thanks to an overseas box office rush.

Breaking Dawn debuted just ahead of New Moon, which grossed $274.8 million two years ago.

The penultimate Twilight movie has become the fifth-highest opener of all time in the U.S.