'Breaking Bad' Stars Drive Mobile Meth Lab RV To Premiere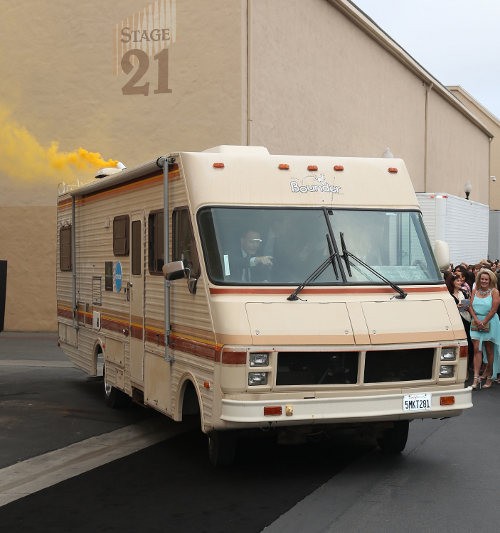 Bryan Cranston and Aaron Paul delighted Breaking Bad fans by driving to the  season premiere in the show's beloved recreational vehicle (RV).

On Wednesday night, the stars turned out to launch the second part of season five at a glitzy party in Culver City, California, and they made a magnificent entrance by arriving in an RV complete with yellow smoke billowing from the vehicle's vents. Paul was behind the wheel with Cranston by his side, and the pair later joined the rest of the cast to toast the latest episodes of the final season.

The stunt was a nod to the RV featured in the series which was used as a portable crystal meth lab, where Cranston's chemistry teacher-turned-reluctant drug baron character Walter White first began 'cooking' illegal substances with Paul's Jesse Pinkman.

The premiere came a day after the popular TV show was translated for the stage in a live reading at the Los Angeles County Museum of Art on Tuesday.

The script for the pilot episode was read by The Office's Rainn Wilson, while Parenthood's Mae Whitman played a female version of tortured junkie Pinkman.

The event was organized by director Jason Reitman, while Breaking Bad stars including Cranston, Paul and Anna Gunn were in the audience along with series creator Vince Gilligan.

The final episodes of Breaking Bad will begin airing next month.