'Breaking Bad' Alternate Ending Takes Bryan Cranston Full-Circle To 'Malcolm In The Middle'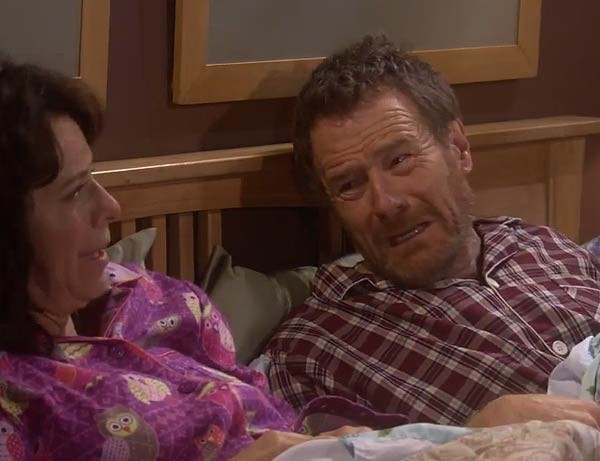 Was Bryan Cranston's hit AMC series Breaking Bad just a bad dream?

A spoof alternate ending that was shot for the show recently surfaced, and the clip features Cranston's former Malcolm In The Middle co-star Jane Kaczmarek reprising her role.

The clip starts with Cranston as his meth-cooking character Walter White, aka Heisenberg, before he suddenly wakes up from the middle of a dream as "Malcolm In The Middle" dad Hal. He sits up in bed and wake wife Lois (Kaczmarek), telling her, "I just had the scariest dream.

"I was this meth dealer," he adds. "Yeah. I was this world class chemist and I cooked and I sold this ultra-pure methamphetamine."

He then brings up several characters from the show, saying, "There was a guy who never spoke. He just rang a bell the whole time. And there was this other guy who was a policeman or – a DEA agent and I think he was my brother or something. He looked the guy from The Shield!"

Hal then describes meth-dealing partner Jesse Pinkman (Aaron Paul), calling him "a man child kid who always looked like he was wearing his older brother's clothes."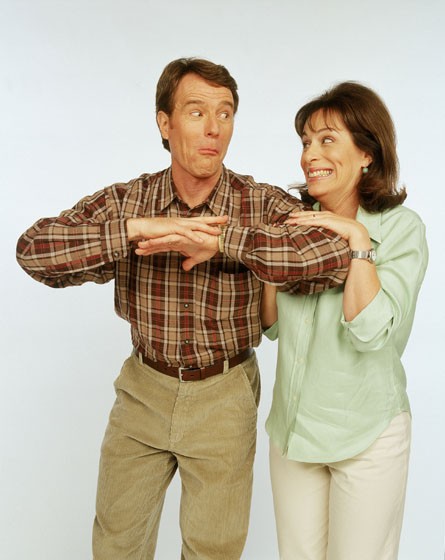 The alternate ending plays out just like the ending to 80s series "Newhart," in which main character Dick Loudon (Bob Newhart) wakes up after getting hit with a golf ball as his Bob Newhart Show character Bob Hartley, revealing that the entire series, which ran from 1982-1990 was all just a dream. The much-talked-about episode ranks up there as one of the best series finales ever.

Hartley tells his wife that in his dream he was married to a "beautiful blonde," something Cranston repeats in the alternate "Breaking Bad" finale. "Ooh, right. I was married to this tall beautiful blonde," he says, referencing Bad wife Skyler (Anna Gunn); to which his wife replies, "Yeah, well keep dreaming pal."

Hal also describes himself, saying he made bombs and killed people and had a shaved head and a goatee and wore a black hat.

As he shuts the light he says, "Good night Skyler," and the camera pans over to a bedside chair which has White's iconic black hat placed on it.
Cranston and Kaczmarek filmed the scene when Kaczmarek visited the set of the show during filming for the final season earlier this year.

Fans of the show had suggested that the series go full-circle back to "Malcolm In The Middle," with Walter White going into the Witness Protection Program and starting a new life as Hal.

The video is reportedly an extra from the DVD/Blu-ray set, "Breaking Bad: The Complete Series", which is set for a November 26 release.

The video, unfortunately, has been disappearing at a rapid rate, as there's no official version and Sony has claimed copyright infringement on the handful of YouTubers who posted it. For now, you can see it over at London's Mirror Online while it lasts.