'Breakfast At Tiffany's' Debuts On Blu-ray Sept. 20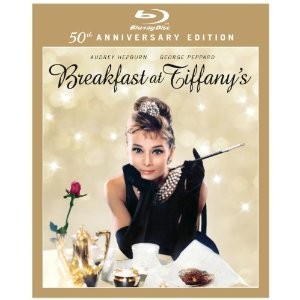 "Breakfast At Tiffany's" has been fully restored and remastered for this 50th Anniversary Blu-ray release, which boasts over 90 minutes of special features including an exploration of the making of the film, a look at Audrey's iconic style, a tour of the studio lot, featurettes on Henry Mancini and Tiffany's, commentary by producer Richard Shepherd, photo galleries, the original theatrical trailer and more.
In an idealized New York City during the early '60s, Holly Golightly (Audrey_Hepburn) is a charming socialite with a youthful zest for life who lives alone in a nearly bare apartment. She has such a flippant lifestyle that she won't even give her cat a name, because that would be too much of a commitment to a relationship.
Maintaining a childlike innocence yet wearing the most perfect of designer clothes and accessories from Givenchy, she spends her time on expensive dates and at high-class parties. She escorts various wealthy men, yet fails to return their affections after they have given her gifts and money.
Holly's carefree independence is changed when she meets her neighbor, aspiring writer Paul (George_Peppard), who is suffering from writer's block while being kept by a wealthy woman (Patricia_Neal). Just when Holly and Paul are developing their sweet romance, Doc (Buddy_Ebsen) appears on the scene and complicates matters, revealing the truth about Holly's past.
"Breakfast at Tiffany's" was nominated for several Academy awards, winning Best Score for Henry_Mancini and Best Song for Johnny_Mercer's classic tune "Moon River"