"Bratz Forever Diamondz" CD Inspired By A New Bratz Fashion Doll Line; Win A Copy!

Diamonds are a girl's best friend--and so too is "Bratz Forever Diamondz." The third installment in the wildly popular
Bratz
CD music series was released Sept. 19 and features brand new songs by some of today's hottest pop songwriters and producers, notably Matthew Gerrard, best-known for his work on the #1-charting soundtrack to "
High School Musical
" and for hits by
Kelly Clarkson
,
Hilary Duff
and
Jessica Simpson
, to name a few. Song titles on the CD by Gerrard include "Let Go", "Hang On" and "You've Got It".
Also contributing to the "Bratz Forever Diamondz" CD is leading entertainment hit-making firm, Engine. Among the tracks via Engine are "Wazz Up" and its Spanish version, "Que Tal," as well as covers of
Christina Aguilera
's "Beautiful" and a brand new remake of
David Bowie
's "Fashion." All music is inspired by MGA Entertainment's new "Bratz Forever Diamondz" fashion doll line hitting stores now.
An initial release of the "Bratz Forever Diamondz" CD includes bonus tracks and special packaging that accommodates a stylish bracelet with cool charms for girls to wear.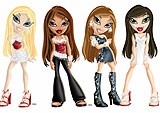 In addition to the CD, 20th Century Fox Home Entertainment released the latest Bratz DVD movie, "Bratz Passion 4 Fashion Diamondz" Sept. 26. Also coming to the Bratz family are THQ's "Bratz Forever Diamondz" video games, set for release in early October.
"Bratz Forever Diamondz" follows 2005's "Bratz Rock Angelz," which hit #1 on Billboard's Kids Audio Chart and debuted in Billboard's Top 100, where it was a staple for many months and became one of last year's 100 best-selling albums approaching 500,000 units sold worldwide. Earlier this year, "Bratz Genie Magic," a soundtrack to the DVD movie and doll line of the same name, was released.
Bratz began as a line of lifestyle fashion dolls manufactured by MGA Entertainment, a leader in consumer entertainment products for children of all ages, and became a worldwide phenomenon among tween girls (ages 6-12). Bratz has won more awards and received more press recognition than any other fashion doll brand since its debut in 2001.
Enter here for a chance to win one of the new dolls or a copy of this great new CD!
Listen:
"Forever Diamondz"
(Windows Media)
|
(Real)
"Ooooh Fashion"
(Windows Media)
|
(Real)
(Streaming audio and/or video links may expire without notice)