Brandy Devastated By Teenager's Death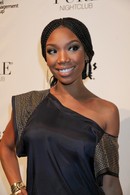 Singer Brandy is devastated following the death of a young girl who she helped to receive a heart transplant.

The R&B star launched a money-raising campaign to fund a life-saving operation for 17-year-old Jessica Harris, who hailed from Brandy's hometown of McComb, Mississippi and suffered hypoplastic left heart syndrome.

The singer even flew Harris out to California for a birthday party in October to lift her spirits ahead of her February transplant.

But the story has ended in tragedy following the teenager's death in a New York hospital on Thursday, and Brandy has released a statement to express her grief.

The statement from Brandy and her family, obtained by Reuters, reads, "Jessica was and will always be an inspiration to our family. In the face of her illness, her courageous spirit and positive outlook gave us memories we will cherish for a lifetime. We were touched by the outpouring of generosity from the public when we set up a fund on her behalf to help cover her medical and travel expenses."