Brandi Glanville Marries 'Best Friend' In Las Vegas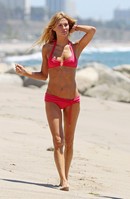 Actor Eddie Cibrian's ex-wife Brandi Glanville rang in the year as a newlywed after marrying her "best friend" in Las Vegas.

The Real Housewives of Beverly Hills star exchanged vows with Mixed Martial Arts manager Darin Harvey at a wedding chapel in Sin City on Saturday night.

Announcing the news in a series of Twitter.com posts on Sunday, she wrote, "I'm married again - suuuuuuck it!... um he is my best friend but after some beer and strippers he is now my husband! No joke!... Getting my ring tomorrow! Yes I did really do it!... It wasn't planned and we will handle it, but good times!"

However the happy couple may not be husband and wife much longer - Harvey wrote in a post on his Twitter page the same day: "Don't worry @BrandiGlanville and I had a crazy Vegas moment. Getting annulled tomorrow."

Glanville has two children with actor Cibrian, who is now married to country singer LeAnn Rimes. The pair divorced in 2010.