Branagh Adapts And Directs Shakespeare's 'As You Like It,' Debuting Aug. 21, On HBO

In the latter part of the 19th century, Japan opened up for trade with the West. Merchant adventurers arrived from all over the world, many of them English. Some traded in silk and rice and lived in enclaves around the "treaty ports." They brought their families and their followers and created private mini-empires where they tried to embrace this extraordinary culture, its beauties and its dangers... A dream of Japan... Love and nature in disguise... All the world's a stage...
HBO Films presents director
Kenneth Branagh
's imaginative adaptation of
Shakespeare
's classic
As You Like It
, celebrating the enduring power of love in all its many disguises. Witty, playful and utterly magical, the story is a compelling romantic adventure in which Rosalind and Orlando's celebrated courtship is played out against a backdrop of political rivalry, banishment and exile in the Forest of Arden - set in 19th-century Japan.
Marking Branagh's fifth Shakespearean screen adaptation,
As You Like It
features a cast that includes (in alphabetical order):
Brian Blessed
(
I, Claudius
),
Romola Garai
(
Vanity Fair
),
Bryce Dallas Howard
(
Spider-Man 3
),
Kevin Kline
(Oscar®-winner for
A Fish Called Wanda
),
Adrian Lester
(
Hu$tle
),
Janet McTeer
(HBO Films' upcoming "Five Days"),
Alfred Molina
(
The Da Vinci Code
) and David Oyelowo (HBO Films' upcoming "Five Days"). The film debuts Tuesday, Aug. 21 (9:00-11:15 p.m. ET/PT), exclusively on HBO. (Other HBO playdates: Aug. 25 at 4:00 p.m. and 29 at 10:30 a.m. & midnight. HBO2 playdates: Aug. 27 at 9:30 a.m. and 31 at 8:00 p.m.)
HBO presents in association with BBC Films, A Shakespeare Film Company Production,
As You Like It
by William Shakespeare. Adapted for the screen and directed by Kenneth Branagh; produced by Kenneth Branagh, Judy Hofflund and Simon Moseley; director of photography, Roger Lanser, ACS; production designer, Tim Harvey; editor, Neil Farrell; music composed by Patrick Doyle; costume designer, Susannah Buxton; makeup and hair designer, Jenny Shircore; casting by Sarah Bird. HBO Films vice president Jenni Sherwood is the executive in charge of the production.
Thanks to its timeless wit, romance and playfulness,
As You Like It
is one of Shakespeare's most popular plays. For Kenneth Branagh, the idea of making a film version came to him while playing Touchstone, the court fool, in repertoire in the mid-'80s.
" '
As You Like It
' is a classic feelgood romantic comedy, and I've seen it have a delirious effect on audiences," Branagh explains. "The combination of light and shade means that Shakespeare's comedies are often as beautiful and moving as the tragedies."
Perhaps the most compelling strand of
As You Like It
is the love story. Says Branagh, "The way it presents a romantic relationship is contemporary, funny, touching and realiztic. It's very accurate about the game-playing and posturing that go on. Above all, though, it's a great tale. You'll recognize all the people in it, and their stories will make you laugh and will move you, whether you are 15 or 75."
Branagh first had the idea of setting
As You Like It
in Japan while on a trip to the Far East in 1990. "I sat in a rock garden at a temple in Kyoto for two hours and was surprised at the extraordinary meditative calm that descended on me and the other visitors. It seems to me that one of the central themes in this play is the idea of the transformative effect that nature can have upon us. By relocating the Forest of Arden to Japan, it would be possible to get audiences to experience the story in a new, different and exotic way.
"I felt the sublime landscape and fascinating culture could be an inspiring setting for this quintessential romantic comedy. With sumo, martial arts and cherry blossom, I hope that the drama and the joy can combine to produce a wonderfully enjoyable film."

Branagh was also keen to move away from too traditional a setting for the story. "People tend to feel that because the Forest of Arden is named in the play, it must be the place in Warwickshire," he says. "But Warwickshire isn't mentioned, any more than the Ardenne in France [another suggested location]. In fact, no place names are mentioned. So you could argue that the Forest of Arden is a mythical place, or, if you like, a state of mind."
In the middle of the second half of the 19th century, Japan was trying to become an industrial nation. As a result, it opened itself up to the West for about 50 years. Branagh explains, "In Europe, the idea of Empire was still in full flow and European adventurers were all over the world, often setting up their own little fiefdoms. In Japan, they often lived in little enclaves around what they called 'treaty ports,' basically the areas around docks where much of the trading of silk, rice, etc., was going on."
This historical phenomenon gave Branagh the idea of setting the play among a group of Europeans who form a hybrid, commercial version of court life, where they are influenced by local culture but retain their European nature. "It had some kind of historical precedent and meant we could introduce both Europeans and Japanese characters," he explains.
In short, setting the action in Japan offered the filmmakers a great opportunity to borrow from Japanese culture and to celebrate it in terms of landscape, gardens, costumes, dance and martial life.

Over the years, Branagh revisited Japan three times while promoting other film projects and then took himself back to Japan for an
As You Like It
research trip, watching sumo tournaments, meeting calligraphers and bonsai tree-makers, and generally soaking up the culture. Branagh returned to England buzzing with ideas.
"When you start working on an adaptation like this, I think you have to find the nuts and bolts of the story and then meet the difference between a 400-year-old text and a contemporary medium," he continues. "So, what do you leave out? How do you tell the story with pictures? And how do you strike the balance between presenting the story and finding a visual language that lets the words that remain sing out? It's also about being bold enough - if you think there is a cinema narrative that is crying out to be followed - to sometimes abandon the structure of the play."
One of the major changes was to stage the palace coup at the beginning of the film. "In the play, the overthrow of Duke Senior by Duke Frederick happens offstage and is reported rather confusingly," explains Branagh. "In one scene, it seems as though the banishment occurred a couple of months ago; in another, it appears to have happened very, very recently, so we made a decision about that."
Aside from transplanting the action to a Japanese trading post, Branagh also wanted to bring out the layer of darkness in the play. " '
As You Like It
' is not exclusively a bucolic, lyrical comedy. The play begins with the bitter dispute between Orlando and Oliver, and I wanted to ensure that our story was not too soft and easy. There has to be a possibility of disaster in order to heighten the dramatic stakes."

To remind audiences of this threat, Branagh wanted to bring the disputes between Duke Frederick and Duke Senior, and between Oliver and Orlando, into sharper focus. "In a story that can so often seem like a romp, where everything may appear to happen in a parallel universe of undisturbed kindness, we wanted to keep that danger alive and keep a kind of disturbing energy underneath the comedy and the romance," he notes. As a result, Branagh needed both to take seriously the psychological development of characters involved in the major theme of fraternal dispute, and to keep the palace coup in focus throughout the film.
Branagh made other structural adjustments for the screen. Shakespeare's theatrical style often involves repetition. He explains, "At the beginning of each act someone will come on and say, 'Aha, so here we are in the Forest of Arden' and reset where they are for all the people who've come late. We didn't need to do that.
"You try to follow your own instinct about telling the story through the text," concludes the director. "Then, as you gather people around you - the production designer, all the other collaborators, the cast - and see how they respond to it, you all try to make the goals truthful and organic."
Synopsis
Japan, the 1880s: Duke Senior [Brian Blessed] has founded a small commercial court on the edges of the Forest of Arden. With his daughter Rosalind [Bryce Dallas Howard], his niece Celia [Romola Garai] and his courtiers, he is enjoying a traditional kabuki play when the palace is surrounded and overrun by an army of samurai warriors, under the leadership of his brother Frederick [also played by Brian Blessed]. Senior and his men, including the visiting loner and philosopher Jaques [Kevin Kline], escape to the wild and vast Forest of Arden.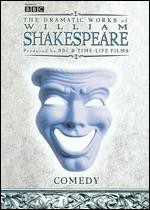 Meanwhile, the sons of the late Sir Rowland de Boys, a one-time friend of Senior's, are also at odds. The eldest son, Oliver [Adrian Lester], has been left in charge of the estate and of the education of the youngest, Orlando [David Oyelowo], who is livid that his brother has not given him his inheritance. Oliver, for his part, is murderously jealous of Orlando and plots to kill him. However, Oliver's plan to have Orlando dispatched by the court's champion sumo wrestler, Charles, backfires when Orlando wins the fight and falls in love with Rosalind, one of the spectators. His love is immediately reciprocated and she gives him a chain from her neck. Orlando is so smitten he can barely thank her.
Frederick's paranoia makes him jealous of Rosalind's popularity among the people and he banishes her, too, on pain of death. In the meantime, the de Boys family servant, Old Adam [Richard Briers], overhears Oliver plotting to burn his brother to death as he sleeps. He hands his life savings over to Orlando, and the pair flees for their lives to the forest.
Frederick's own daughter, Celia, cannot bear to be without her beloved cousin, so the pair disguise themselves for safety - Rosalind as a man, Ganymede, and Celia as his sister, Aliena - and themselves run away to the forest, taking the court jester, Touchstone [Alfred Molina], with them for company.
Hungry and tired, Rosalind and Celia encounter a shepherd, Corin [Jimmy Yuill], and his young charge, Silvius [Alex Wyndham], who offer them sanctuary from the wilderness. Silvius has fallen wildly in love with a sarcastic shepherdess Phoebe [Jade Jefferies], who does not return his affections.
With Old Adam near death from exhaustion, Orlando becomes desperate. At that moment, the pair come across Duke Senior's makeshift camp. Orlando bursts into the camp brandishing a knife and a sword and tries to steal their food. Duke Senior realizes that Orlando is not normally hostile and treats him with kindness. Fortified by food and company, Orlando decorates what seems like every tree in the forest with love poems to Rosalind on huge banners.
Back at court, Oliver torches the stable block where he thinks his brother sleeps and visits the smoldering ruins. Frederick, desperate to find his daughter, whom he suspects is with Orlando, tortures Oliver, who collapses and weeps in penitence.
Wandering the forest with Corin, Touchstone meets another court escapee, Audrey [Janet McTeer], now turned novice goat herder. She is filthy and odorous, but for Touchstone, her smiling, earthy sexuality makes an immediate impact.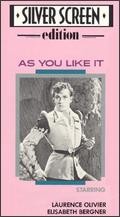 The disguised Rosalind and Celia meet Orlando in the forest. Rosalind tests the strength of Orlando's love by saying that she will cure him of his "affliction." The plan is that she will pretend to be his Rosalind and misbehave as "changeable… proud, fantastical, apish, shallow, inconstant, full of tears, full of smiles…," in effect putting him through love rehab.
Meanwhile, Touchstone's attempted roll in the hay with Audrey has gone awry as his sham wedding plans quickly become the real thing. At first panicked by the prospect of having to get a ring on Audrey's dirty finger in order to consummate his passion, Touchstone too is affected by the forest, and his lust turns to love as he commits himself wholeheartedly to marriage.
When Orlando falls at the first hurdle and is late for their appointed meeting, Rosalind is inconsolable. Corin brings the cousins to witness Phoebe and Silvius wrangling. Emboldened by her anger at Orlando, Rosalind takes the proud shepherdess to task. "Sell when you can, you are not for all markets," she tells her. She is shocked when her bold castigation results in Phoebe falling in love with her - as Ganymede.
When Orlando arrives at Corin's sheepcote an hour late, Rosalind gives him hell. But he acquits himself so well that Ganymede, her alter ego, begins to diminish rapidly. There is a frightening intimacy to their game as they act out a marriage ceremony with Celia officiating. The mock wedding has a surprising power, leaving the moss-covered forest quiet and Rosalind's knees shaking. Orlando leaves for dinner with Duke Senior, promising to return in two hours. Celia wryly notes her own loveless state.
En route to the Duke's camp, Orlando discovers the broken body of his brother Oliver. Orlando is filled with conflicting emotions, but as he goes to abandon his dishonorable sibling, a lion attacks. Orlando takes on the lion to save his brother, but is rescued from its clutches when Oliver hurls a rock at it. The brothers fall together in an embrace of love and relief.
Orlando hands Oliver a bloodstained handkerchief, urging him to take it to Ganymede and explain his absence. When Oliver finds the women in the stone garden, the magic of the forest goes to work once again. Love's thunderbolt strikes both him and Celia in an instant. Oliver hands over the bloodied rag and becomes suspicious when Ganymede faints.
When Celia and Oliver announce their own wedding plans, this is Rosalind-as-Ganymede's cue to promise Orlando that not only can she send his own true love to him, but she will want to be his bride.
At the wedding ceremony, Rosalind duly appears in her feminine garb and the effect is dazzling. Another arrival is Jaques de Boys, middle brother to Oliver and Orlando, who brings news of Duke Frederick's "road to Damascus" conversion in the forest. Deranged and desperate, finally abandoned by his men, Frederick had wandered the forest alone in search of Duke Senior, planning to kill him. Drained by hatred and exhaustion, he finally met with an old holy man and broke down completely.
As Duke Senior calls for rustic revelry and the multi-wedding celebrations to recommence, Jaques the melancholic lord takes his moment to leave behind the merry throng and join Duke Frederick in his life of contemplation. The joyous mood is reestablished as the lovers dance through the forest and return to court to bring light and nature to it once more.
The credits roll and Rosalind emerges from behind a curtain to perform the play's epilogue as the film set is revealed behind her. Rosalind entreats the audience to enjoy as much of the play as may please and then says her goodbyes. Rosalind enters her trailer, "That's a wrap," is heard, and
As You Like It
fades to black.