Bradley Cooper: 'I Don't See Myself As A Ladies' Man, But I Love Women'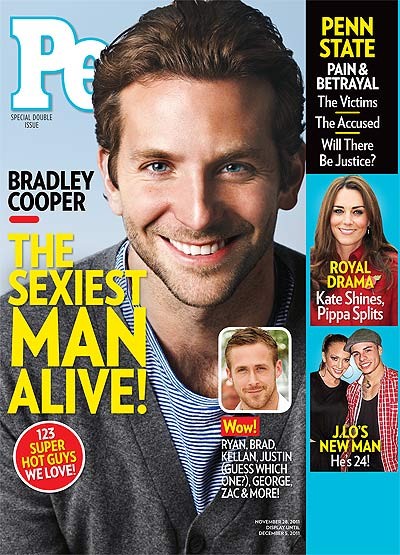 He has piercing eyes, a winning smile, tons of talent – plus, he cooks and speaks French! In this week's special double issue, prepare to swoon over People Magazine's Sexiest Man Alive 2011, Bradley Cooper. With his ice-blue eyes, mussed hair, and lightning-quick wit, Bradley Cooper, 36, has cornered the market on playing cool and confident. But when he learned that People named him this year's Sexiest Man Alive, he says, "I thought I was being Punk'd." This Georgetown grad can whip up gourmet meals, quote Sophocles, and chat breezily in French. And he is close with two special females: His mom, Gloria (his dad Charles, a stockbroker, died in January), and retriever-chow mix Charlotte, both of whom he brought to People's photo shoot.

Wearing the khakis he sported in The Hangover Part II – along with a blue button-down shirt and a twinkle in his eye – he opened up to People at a luxurious estate near his native Philadelphia, where he's filming The Silver Linings Playbook. What of recent sightings of Cooper – who split from Renee Zellweger back in March – with People's World's Most Beautiful cover girl, Jennifer Lopez? "I'm a single 36-year-old male," he says. "I don't see myself as a ladies' man. But I love women. Do you know what I'm saying?" Mais oui! Absolument!

In addition to Cooper, People marks the 26th edition of the iconic Sexiest Man Alive franchise with a "RetroSexual" spread featuring some of TV's funniest guys transported back into time. The men of Saturday Night Live scale heights to channel the 1930s in a recreation of the famous photo of construction workers taking a lunch break on a steel beam high above Manhattan. The men of Cougar Town grease up to channel the 1950s. Brian Van Holt, 42, tells People, "Elvis was the sexiest thing about the '50s. He's the dude. You can't get sexier than Elvis." And the men from Parks and Recreation channel the Rat Pack vibe of the 1960s with tuxedos and cocktails. Aziz Ansari, 28, says, "I love that People dressed sharp then…Guys were trying to take care of themselves and look slick. Now People are such slobs." Chris Pratt, 32, adds, "The coolest thing about that decade was probably Las Vegas, that era of carefree gambling and smoking."

In "Virile & Viral," four hot stars throw themselves into an Internet trend – striking all sorts of wacky poses for the camera. True Blood's seductive cop, Ryan Kwanten, 35, dons a tux to practice "Leisure Diving" into a swimming pool; Vampire Diaries' tortured spirit, Paul Wesley, 29, simulates "Thinkering" a la Rodin's famous statue; Bush singer/guitarist Gavin Rossdale, 46, strikes an "Owling" pose, and Dancing With the Stars pro, Derek Hough, 26, goes "Batmanning" while hanging upside down in gravity boots.

TV funny guys Joel McHale (NBC/Community, E!/The Soup), Ty Burrell (ABC/Modern Family), Seth MacFarlane (FOX/Family Guy), and Kevin Hart (guest star, ABC/Modern Family) created exclusive videos on People.com/funnyisthenewsexy "sexifying" everyday tasks in their own unique laugh-out-loud manner, proving that in 2011, funny IS the new sexy.

For more on the "Sexiest Man Alive" 2011, pick up People's 11-28-11 issue on newsstands for two weeks starting Friday, November 18. Please credit People and link to www.People.com/sexiestmanalive for behind-the-scenes video and more.


Men of the Year: A Sexy Comeback, a Teen Idol, a War Veteran & Other Red-Hot Guys of 2011

Darren Criss
Dylan McDermott
Idris Elba
Patrick Wilson
Chris Evans
Jason Derulo
Henry Cavill
Justin Theroux
Anton Yelchin
J.R. Martinez
Josh Charles
Jim Caviezel
Damon Wayans Jr.

A Complete List of People's "Sexiest Man Alive" Over the Past 26 Years:
1985: Mel Gibson
1986: Mark Harmon
1987: Harry Hamlin
1988: John F. Kennedy Jr.
1989: Sean Connery
1990: Tom Cruise
1991: Patrick Swayze
1992: Nick Nolte
1993: Richard Gere and Cindy Crawford ("Sexiest Couple Alive")
1994: None
1995: Brad Pitt
1996: Denzel Washington
1997: George Clooney
1998: Harrison Ford
1999: Richard Gere
2000: Brad Pitt
2001: Pierce Brosnan
2002: Ben Affleck
2003: Johnny Depp
2004: Jude Law
2005: Matthew Mcconaughey
2006: George Clooney
2007: Matt Damon
2008: Hugh Jackman
2009: Johnny Depp
2010: Ryan Reynolds
2011: Bradley Cooper



*Also In This Week's 'People'*

-J.Lo's New Man: "They're Just Having Fun And This Will Never Become More"
-Penn State Sex-Abuse Case: "He Duped All Of Us"
-Jessica Simpson: "I Was Meant To Be Pregnant"