Bradley Cooper Had 'Hangover'-Like Trip To Peru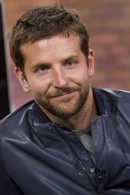 Bradley Cooper was left heartbroken on a dream vacation to Peru after his girlfriend dumped him over the phone during the trip.

The Hangover star ventured to the South American country when he was younger, but the getaway turned sour when he failed to acclimate to the tropical environmental and needed an oxygen tank to aid his breathing.

And the vacation turned from bad to worse for Cooper when his then-girlfriend called him up - and dumped him over the crackly phone line.

He tells BBC Radio 1 host Fearne Cotton, "The worst one (relationship experience) was I was dumped overseas on a bad line of a telephone. I was in Peru with an oxygen tank because I hadn't acclimatised properly.

"I was being dumped... it was done like with a delay. (She said), 'I'm happy on my own'. 'What, okay...' It was the worst."

But Cooper, who is currently single, has no hard feelings towards his ex, adding: "She's a sweetheart though."