Bradley Cooper And Julian Edelman Visit Boston Marathon Victim Who Helped ID Bomb Suspect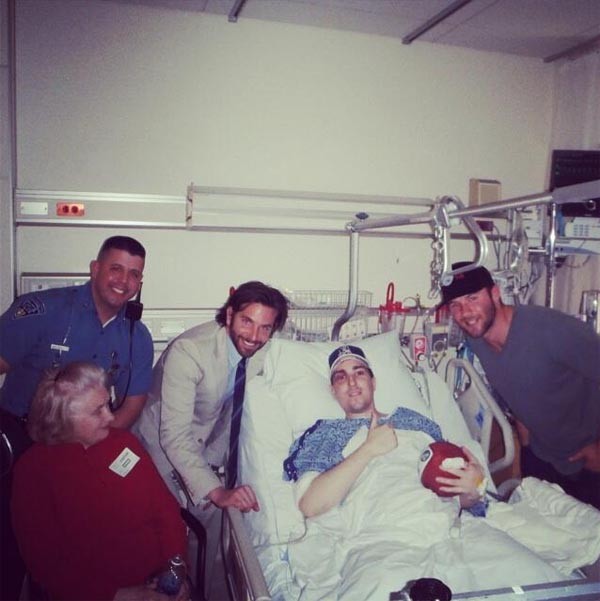 Due to the massive manhunt going on in Boston, Director David O. Russell has suspended production on his new Bradley Cooper and Jennifer Lawrence film (American Hustle) while the search of a suspect in the Boston Marathon bombings continues.
Three people were killed and over 170 more injured on Monday when two bombs exploded near the finish line of the annual race, and late on Thursday night, cops descended on the nearby suburb of Watertown after engaging in a deadly shoot-out with the two lead suspects, one of whom, Tamerlan Tsarnaev, later died from his injuries.
His brother, 19-year-old Dzhokar Tsarnaev, is still at large, and the city of Boston is currently in lock down, urging citizens to stay indoors until he is captured.
Making thoughtful use of his time, Cooper paid a bedside visit to bomb victim Jeffrey Bauman Jr., who lost both legs in the terrorist act Monday. The actor was also accompanied by New England Patriots wide receiver Julian Edelman.
Bauman, 27, according to a Bloomberg report, most likely helped the FBI identify the bombing suspect. After waking from surgery, Bauman asked his brother Chris for a pen and paper "He woke up under so much drugs, asked for a paper and pen and wrote, 'bag, saw the guy, looked right at me,'" said his brother Chris in the Bloomberg report.
Edelman took a photo of the visit (displayed above) and posted to his twitter:
"Visited #survivor #stud #hero Jeffrey Bauman Jr. today. He was looking great and is a true inspiration. #strong pic.twitter.com/bdHCu3zm1W