Brad Pitt's 'Fury' Deemed 'Grossly Insensitive' For Filming Nazi Battle Scenes On Remembrance Day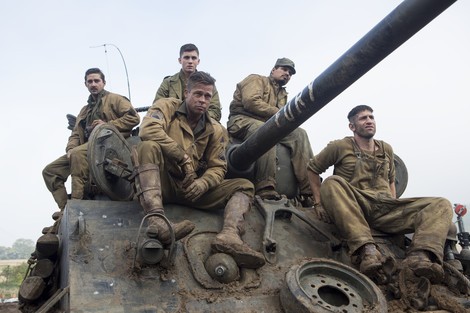 The honchos behind Brad Pitt's upcoming movie Fury ignited indignation across Britain by reportedly shooting battle scenes on the day the country honors soldiers who have died in combat.

The crew of the World War Two action movie, which stars Pitt as a tank commander, infuriated local residents in Oxfordshire, by shooting scenes on Remembrance Sunday, despite reportedly receiving requests from local authorities to halt filming to observe the memorial.

In the early hours of Sunday morning, a hundred British extras are said to have been hired to dress as German and U.S. troops for the shoot, including former soldiers, and were ordered to rampage across fields to create the scene.

War veterans, politicians and local residents have since criticized movie bosses and the film's director, David Ayer.

One actor, who is also an ex-soldier, tells Britain's Daily Mirror newspaper, "It's not as if he (Ayer) didn't know that for many of us Remembrance Sunday is the most important day of the year.

"Instead of toasting our forebears whose bravery gave us this life, we were charging through the countryside dressed as marauding Nazis."

Colonel Richard Kemp, a former commander of British forces in Afghanistan, adds, "At the very time a nation pays tribute to those who gave their lives to stop Nazis rampaging across our land it seems grossly insensitive to impose such scenes on villagers."

Shadow Defense Minister Kevan Jones concludes, "I'm astonished producers would not consider it to be inappropriate to film such scenes on Remembrance Sunday. And it is outrageous appeals from locals to reconsider plans to film on such an occasion were ignored."

Representatives for the movie had yet to comment as WENN went to press. Fury, which also stars Shia LaBeouf, is due for release next year.