Brad Pitt Voices His Support For Occupy Movement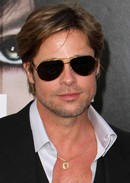 Brad Pitt has come out in support of demonstrators who have set up camp in cities across the world to protest against corporate greed.

The Occupy Movement first hit headlines in New York in September, with the demonstration in Wall Street, and it has since spread to cities including San Francisco, California and London.

Stars including Kanye West, Tom Morello, Mark Ruffalo and Russell Brand have already shown their support for the campaigners, and now Pitt has thrown his star power behind the movement.

The actor is convinced the campaigners have a relevant point and urges them not to stop looking for solutions for the financial problems they are protesting against.

He tells reporters in Tokyo, Japan during his press tour there, "I think what you're seeing in America is questioning a system that has not served us very well. A system that, I mean for example, is defined for corporate lobbyists instead of the best needs for the people and people are feeling screwed a little bit there."

"The most important thing is, really, not just getting swept up in the fervor of a fight. If you're feeling marginalized and frustrated, sometimes the release of a fight can pacify for the moment. But beyond that, really understanding the details, really understanding the systemic problems - and you can't stop there - really looking for solutions.

"And if you're going to say one guy's bad, you've got to back it up with 'This is how we fix it.'"