Brad Pitt To Host Star-Studded Gala For New Orleans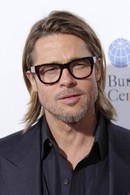 Brad Pitt has rounded up celebrity pals including Sean Penn, Kevin Spacey and Rihanna to support his upcoming fundraiser for New Orleans, Louisiana.

The Hollywood actor launched the Make It Right Foundation to raise funds for housing in the city after the devastation caused by 2005's Hurricane Katrina.

Pitt has handed over millions of dollars of his own cash to boost the cause, and he's hosting a charity event in March to raise more money for the sustainable living initiative.

Rihanna, Sheryl Crow, the Neville Brothers and Seal will perform at the event, while guests slated to attend include Penn, Spacey, Spike Lee and Blake Lively.

Ellen DeGeneres will co-host the event, which is set to take place at the Hyatt Regency New Orleans on March 10th.

Speaking about his foundation's results, Pitt tells The Hollywood Reporter, "It's remarkable, and now we want to take what we've learned and expand to other parts of the U.S. and abroad."