Brad Pitt Tears A Knee Ligament?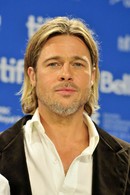 Actor Brad Pitt is walking with the help of a cane after reportedly tearing a ligament in his knee.

The Ocean's Eleven star was photographed leaving a skin spa in Beverly Hills, California on Thursday limping as he stepped out with a walking stick.

JustJared.com reports Pitt is using the cane because he has torn his medial collateral ligament (MCL) - one of four ligaments that stabilizes the knee.
 
A source tells the website, "He tore his MCL."