Brad Pitt Supporting And Helping Angelina Jolie Recover From Double Mastectomy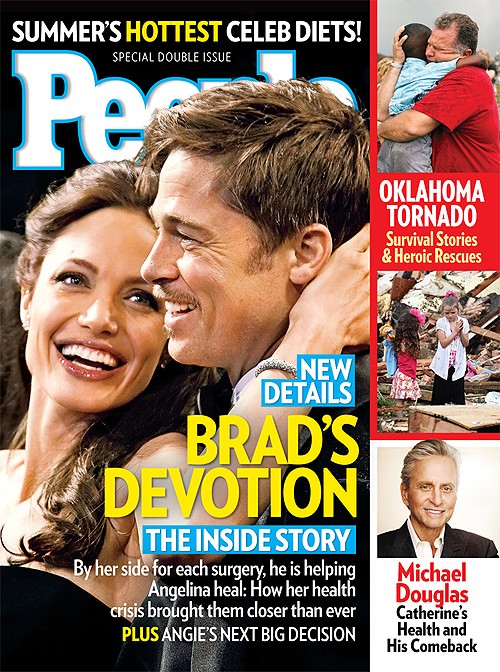 Brad Pitt's strength and devotion helped Angelina Jolie get through her double mastectomy. Now he is by her side as she recovers – and faces the prospect of more surgery. This week's issue of PEOPLE reveals how Angelina's health crisis brought the couple closer than ever. According to Jolie's doctor, Kristi Funk, Pitt was at Jolie's side for every surgery.
At home "Brad did everything he could to keep things secret and protect Angie," a family insider tells PEOPLE. Using early-morning appointments and rental cars to avoid discovery, "they really wanted Angie to be able to recover and rest before they shared the story. Brad was very attentive and sweet to Angie. He always dotes on her anyway."

The couple have leaned on each other – and seen their seven-year relationship deepen – through pregnancies and adoptions, the death of her mother in 2007 and her directorial debut with In the Land of Blood and Honey. Last year they celebrated by getting engaged – at the urging of kids Maddox, 11; Pax, 9; Zahara, 8; Shiloh, 7; and twins Knox and Vivienne, 4. "We've had a family, we've raised the kids. I'm surprised how much [marriage] meant to me once you had that," Pitt told PEOPLE last November.
They also have each other's backs in ways big and small, from seeking each other's advice on movie projects to trading off time working and time home with the kids. "They are very loving and inspiring to each other, exchanging ideas," says Jeremy Kleiner, a longtime exec at Pitt's Plan B production company and a producer on his upcoming movie World War Z. On-set, "he would light up when family showed up. It's just a very cool thing to see." When Pitt is working, says Robert Green, who met the family through Pitt's Make It Right foundation in New Orleans, "he is the engine; she is the backbone."


Also in People this week:

Oklahoma Tornado: Survival Stories & Heroic Rescues
A killer twister rips apart the town of Moore, Oklahoma, hitting two elementary schools and leaving thousands of residents homeless, searching for survivors amid the wreckage. "I'm pretty devastated that this happened," says Marcella Corrales, 14, of Southmoore High School. "But overall I think it has brought this community closer and made us all think never to take our lives for granted because you truly never know when it's your last day."

Sixth grade teacher Janice Brim was reading to her class at Plaza Towers Elementary when her husband, Mark, texted that a twister had formed nearby. Brim, 57, and her students had practiced for this a lot – crouch in the hall, facing the wall, heads down. But after Mark texted them again that a "big tornado" was headed straight for them, Brim and five students made for a 5-ft.-by-5-ft. cinder block hall closet. "The children were crying and scared. I remember their terrified eyes, looking at me for hope," Brim tells PEOPLE.
"They wanted me to promise them that we'd be okay, but I couldn't bring myself to make that promise. So I talked to them about what a privilege it was to be alive, but if this was going to be the end for us, I said, 'Well, didn't we have a great year together?' The theme in our classroom was to 'finish strong,' and my kids were trying to keep that in mind."

Brim gripped the doorknob against the suction of the storm, "like death was on the other side coming to get us." Then suddenly, she says, "the roof was ripped off and we saw daylight." Once she knew her kids were safe, Brim stayed around to help other desperate families looking for their children. But, she says, "It wasn't just me. There were a lot of heroes out there today. I was just one in a crowd of many."


The full stories are featured in the 6/3/13 issue of PEOPLE, on newsstands now.


*Also In This Week's 'People'*
'People' Special Report: Celebrity Slimdown
Demi's $25 Million Demand: She Introduced Ashton To "Powerful Friends"
Michael Douglas: "I'm Making Up For A Couple Of Years I Missed"
Bachelorette Meredith Phillips On Her Battle With Alcoholism: "I Have A Second Chance"