Brad Pitt Saves Extra On 'World War Z' Set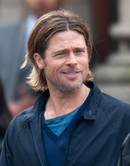 Hollywood hunk Brad Pitt played a real-life hero on the set of World War Z in Scotland on Thursday by saving an extra who had stumbled in an action scene.

The star is currently filming the post-apocalyptic movie in Glasgow and was shooting a high-octane sequence with 700 extras when one woman stumbled and fell during a stampede.

According to The Scottish Sun, Pitt quickly helped the extra to her feet just before she was trampled by the running crowd.

A source tells the publication, "Lots of people hurt themselves and Brad came to the rescue of one woman who slipped. I don't think she could believe it when Brad picked her up.

"He didn't have time to speak to her as it was mid-shoot. But she said afterwards how grateful she was, despite having a badly grazed knee."