Brad Pitt & Jennifer Aniston Caught Making Out?

Angelina Jolie and Brad Pitt's relationship has hit the headlines again following revelations from a former bodyguard suggesting the movie hunk had a secret meeting with his ex-wife Jennifer Aniston in December.

The ex-assistant, named "Bill," tells In Touch magazine Pitt asked him to keep an eye open for the paparazzi while he hooked up with his ex on a remote Beverly Hills canyon road on December 9.

But the bodyguard couldn't help but watch what was going on below him.

He tells the publication, "They were very cozy, clearly embracing. Several times, Brad and Jen were hugging and kissing."

Bill then alerted the pair when he spotted the paparazzi nearby: "Jennifer left first, flashing Brad a quick peace sign and a smile. Brad jogged back to his motorcycle, drove off and went for an hour bike ride."

And the loose-lipped bodyguard insists that wasn't the first time the former couple had met in secret, claiming Pitt and Aniston previously met up twice in Los Angeles and once in New York, to his knowledge.

The new tabloid story comes after months of speculation about Pitt and Jolie's relationship - the couple took legal action against a British tabloid earlier this year following reports of a 'divorce.'

The pair's publicists have dismissed all claims that the romance is in trouble.

Pitt split from Aniston after meeting Jolie on the set of 2005 action film "Mr. & Mrs. Smith."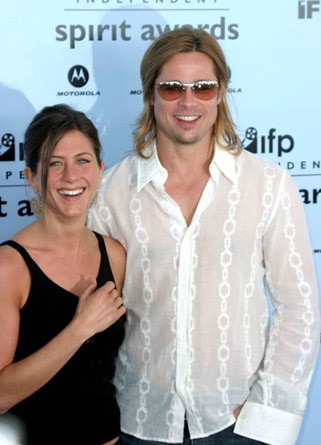 Click for more great Jennifer Aniston pictures:
Click for more great Brad Pitt pictures:
Click for more great Angelina Jolie pictures: