Brad Pitt Is The Happiest He's Ever Been, Was On Drugs While Married To Jennifer Aniston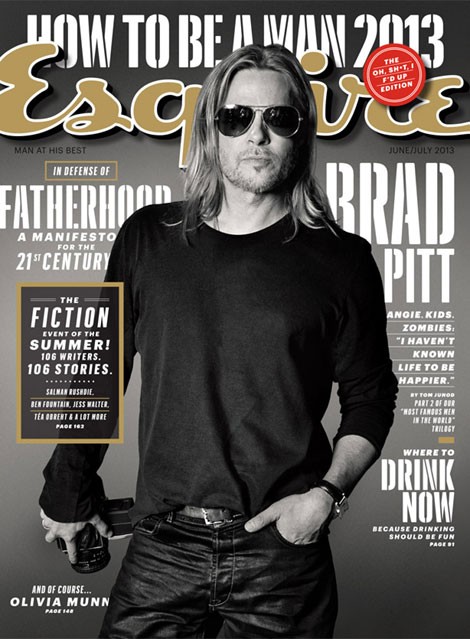 Brad Pitt is in the perfect place in his life. In a candid interview with Esquire, he opens up about his relationship with fiancee Angelina Jolie, how he feels about raising six kids, and some past mistakes using drugs while in an unhappy marriage to a famous "Friends" star.
"I just haven't known life to be any happier," the 49-year-old told the magazine.
"I always thought that if I wanted to do a family, I wanted to do it big. I wanted there to be chaos in the house ... there's constant chatter in our house, whether it's giggling or screaming or crying or banging," he explained.

"I love it. I love it. I love it. I hate it when they're gone. I hate it. Maybe it's nice to be in a hotel room for a day - 'Oh, nice, I can finally read a paper.' But then, by the next day, I miss that cacophony, all that life."
Pitt's good friend Frank Pollaro, who owns a furniture business with the actor, told Esquire that after eight years together, the couple is still madly in love.
Pollaro commented, "Once I walked in and Angie was standing there and (eight-year-old daughter) Zahara walked up and said, 'Daddy, you're not going to start making out with Mommy again, are you?' And it's like that. This is a guy who has tried not to do any sexy scenes with other women since he's met Angelina. He's crazy about her, and she's the same way about him."
Things were very different 10 years ago when Pitt happened to be married to Jennifer Aniston.
"For a long time I thought I did too much damage – drug damage. I was a bit of a drifter. A guy who felt he grew up in something of a vacuum and wanted to see things, wanted to be inspired. I followed that other thing. I spent years f***ing off," Pitt admitted to the magazine.
"But then I got burnt out and felt that I was wasting my opportunity. It was a conscious change… This was about a decade ago. It was an epiphany."
In 2011, Pitt described similar feelings about his struggles to Parade magazine: "I started to get sick of myself sitting on a couch, holding a joint, hiding out. It started feeling pathetic," he confessed.

"It became very clear to me that I was so intent on trying to find a movie about an interesting life, but I wasn't living an interesting life myself. I think my marriage [to Aniston] had something to do with it: trying to pretend the marriage was something that it wasn't."

Pitt stars in the upcoming zombie action flick "World War Z" about a pandemic that threatens to decimate humanity. It hits theaters on June 21.