Brad Pitt Gives Praise To His '12 Years A Slave' Co-Stars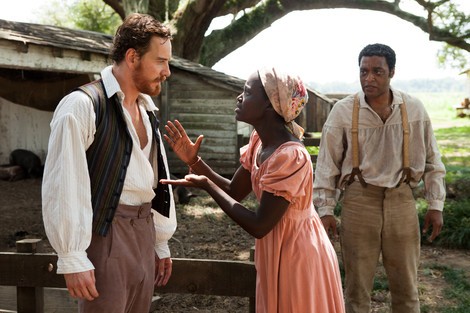 "12 Years A Slave" star Brad Pitt has nothing but good things to say about his co-stars Michael Fassbender, Chiwetel Ejiofor and Lupita Nyong'o, who had "demanding" roles in the film.
Pitt, who makes a brief appearnce in the movie, produced the film, which centers on a free black man from New York who is kidnapped and sold into slavery.
Although he's the biggest star in the critically acclaimed film, Pitt says his cast members deserve most of the credit.
He explained on the "Today" show: "I'm there to support the story. The main performances are Chiwetel Ejiofor, Lupita Nyong'o, Fassbender. These are such demanding parts. These guys had to keep themselves in a perpetual state of angst and foreboding and longing and they did it, they did it. They held themselves through the entire filming process."
Pitt believes the film will have a lasting impact on audiences. He continued: "I know what this film is. I've been around film long enough. I know the impact, and this one will have a continuing impact... It's one of those few films that cuts to the base of our humanity. And it was not until I saw Solomon Northup's story that I fully, fully grasped the utter horror of losing your freedom or denying another one their freedom, taking their freedom, splitting their family apart."
"12 Years A Slave" has also received a lot of Oscar buzz. Fassbender, who stars as a sadistic plantation owner, is an early frontrunner for the "Best Supporting Actor" category at next year's Academy Awards. Films about slavery are popular these days - 2012's "Django Unchained" was nominated for "Best Motion Picture." It won "Best Supporting Actor" (Christoph Waltz) and "Best Writing, Original Screenplay" (Quentin Tarantino) at this year's Oscars.
The film opens in theaters on Oct. 18.