Brad Pitt Crashes A Wedding In England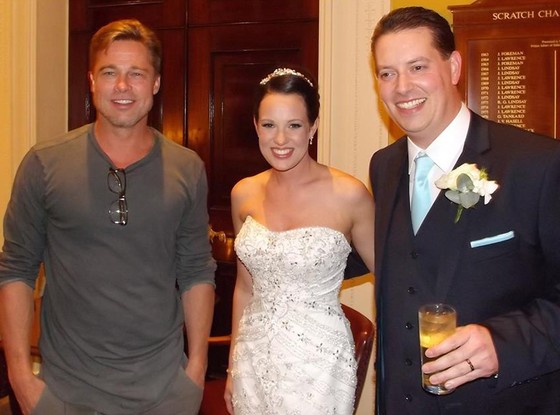 A British couple got a wedding surprise when Brad Pitt showed up to their ceremony in England last week. Daniel and Abi Lingwood wound up posing with the Hollywood A-lister on their big day at the Stoke Park Hotel in Buckinghamshire.

The 49-year-old actor was dressed casually in a long-sleeve grey t-shirt with his glasses tucked inside while posing with the bride and groom.

Daniel spotted the celeb at the hotel during the reception and dragged his new wife to the bar to get a glimpse of him.
Abi told E! news that she "gasped" when she saw the actor. She explained: "We had a little run in with Brad Pitt, which is admittedly every girl's dream. It caused quite a stir amongst our guests...It really did cap off the perfect day."

Pitt told Abi she "looked great" in her dress and explained he was at the hotel for a meeting. He is currently in England filming World War II film "Fury."