Brad Paisley Takes Aim At Paul McCartney's Awful New Album Title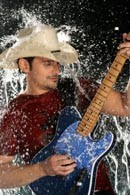 "Celebrity" singer Brad Paisley has taken aim at Paul McCartney and his "yes men" for coming up with the worst album title ever.

The country music star is not a fan of McCartney's new release "Kisses on the Bottom" and suggests someone should have told the former Beatle it was a terrible idea.

In a series of Twitter.com posts on Wednesday morning, Paisley wrote, "It's only February, but Sir Paul is an absolute lock for worst album title of the year. Actually, maybe all time... It's like he's kidding. He's got to be kidding. Tell me he's changing the title back to the real one, right? Oh then how we'll laugh and laugh."

He later added, "Dear Team of 'Yes Men' surrounding Sir Paul: you really have taken it to a new level. No one said... 'uh, Sir, uh... what about..um..hey maybe.."

And Paisley suggests, "Even 'Kisses on the Butt' would be better, could mean cigarette. Or heck, 'kisses on the ass', possibly a beloved pet donkey. But bottom? Nope."