Boys Like Girls 'Crazy World EP' Review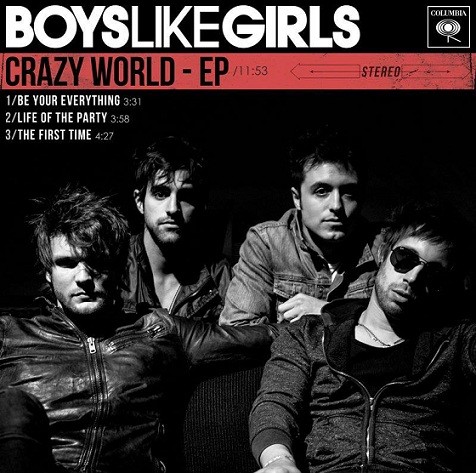 It's been a crazy couple of years for Boston rock band Boys Like Girls, but they are finally back with a brand new EP – Crazy World EP!
Crazy World EP consists of three tracks – "Be Your Everything", "Life of the Party" and "The First Time". A full-length album, Crazy World, will be released this fall. This is the band's first release in 3 years, following their platinum sophomore album Love Drunk, which was released in September 2009. One major change in Boys Like Girls is its line-up – bassist Bryan Donahue has left, and the band has engaged long-time friend Morgan Dorr as the new bassist. The current band members are Martin Johnson (lead singer & rhythm guitar), Paul DiGiovanni (lead guitar), John Keefe (drums) and Morgan Dorr (bass guitar & backup vocals).
Boys Like Girls have been known for their catchy pop-rock ballads, and "Be Your Everything" is definitely their best yet. With lead singer Martin Johnson's vocals, the song is an emotional song about wanting to be a girl's everything and being there for her forever and always. Aww! And what better way to compose a love song than to add a major 2nd modulation at the last chorus? Now, I don't know about you, but I felt tears stinging in my eyes as I listened to this beautiful track.
"The First Time" is about reminiscing about one's hometown and seeing how everything has changed, and meeting old friends (and an old flame). The hook of the song is the repeated line "It's good to see you again", and it has been stuck in my head for the entire day, so this song is definitely worth a listen!
Setting aside the emotional songs, "Life of the Party" is an upbeat dance tune with a country vibe to it. With its catchy "na na na na na" lines, it definitely lives up to its name. It's one of those songs where you can't help but get up and dance to it. It features the amazing falsetto of bassist Morgan, who is a singer himself, having being the lead singer of his bands Endway and The Empire Kids.
On a scale of 1 to 10, I'd give Crazy World EP a 12. Listening to these songs definitely gets us all even more excited for the upcoming Crazy World album! Boys Like Girls is back, and watch out world, because they're going to dominate your radio stations and speakers in just a bit.