Box Office Predictions: 'Thor: The Dark World' Will Repeat At No. 1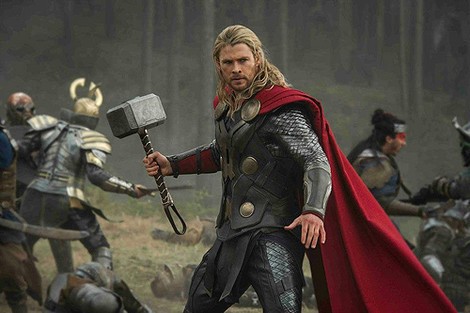 1) Thor: The Dark World- 40M Weekend, 145M Total
With no real direct competition, and good word of mouth, Thor is still "the movie to see" this weekend. It will likely dip in half, and still do far more than everything else in theatres. It will have to contend with the juggernaut that is The Hunger Games next week, so it's good that it is mopping up as much money as it can right now.
2) The Best Man Holiday- 17M Weekend, 17M Total
As the weekends only new release, as well as being a holiday themed release, you'd think The Best Man Holiday would shoot to the top. Unfortunately, I'm not sure how many people saw the original. The Best Man made 34M in 1999, which was good for 1999 standards. I do expect the sequel will surpass the original, but it won't be a runaway smash hit. These characters aren't nearly as timeless and beloved as the promos would have you believe.
3) Free Birds- 8M Weekend, 40M Total
Free Birds dipped only 29% last weekend, and will likely slide very little this weekend too. It is the top choice for families (really, the only choice for families), and it is turning into the Little Engine That Could.
4) Last Vegas- 7.5M Weekend, 44M Total
The hit comedy dipped 32% with good word of mouth. I don't think The Best Man Holiday draws the same audience, so another small drop will leave Last Vegas in the top 5.
5) Bad Grandpa- 7M Weekend, 88M Total
A slightly harsher (but still solid) drop hit Bad Grandpa last week. It was so close to Free Birds and Last Vegas, that the same drop this week would cause it to slip below both of them.
6) Enders Game- 5M Weekend, 53M Total
Enders Game dropped 62% in week two. It should level off a bit at 50% this week, giving it a little over 50M.
7) Gravity- 5M Weekend, 238M Total
Gravity should dip again about 35%, meaning it will be battling with Enders Game and 12 Years A Slave for placing this week.
8) 12 Years A Slave- 5M Weekend, 24M Total
It's hard to predict a dip for a film that has only been going up each week, but without another major expansion, 12 Years A Slave is probably going to dip, even if only just a little.
9) Captain Phillips- 4M Weekend, 97M Total
So close to 100M…
10) About Time- 2.5M Weekend, 10M Total
About Time will round out the Top 10, with more unimpressive grosses.