Box Office Predictions: 'The Hobbit' Headed For #1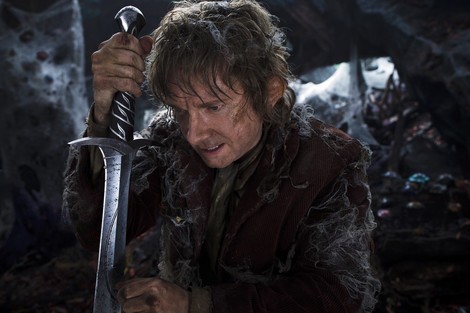 1) The Hobbit: The Desolation of Smaug- 78M Weekend, 78M Total
The general consensus was that the last Hobbit was not on par with the quality of the first Lord of the Rings trilogy. The first Hobbit opened to 86M, breaking a December record. The second should see a small-ish dip, due in part to the people who didn't like the first enough to rush out and see the second. Plus, there's a ton of competition.
2) A Madea Christmas- 24M Weekend, 24M Total
Good God. Tyler Perry and Madea are back for what some critics have called "the worst Tyler Perry movie ever." (Roger Moore). However, that kind of talk doesn't usually stop Tyler Perry's audience from seeing the movie, and he's added Larry The Cable Guy to the mix. He's trying to broaden his reach this weekend, which should make Madea a pretty strong title this weekend.
3) Frozen- 20M Weekend, 161M Total
Frozen will dip about 35% to 20M. It remains the top draw for families, and will stay that way until Walking With Dinosaurs opens (and even that may not do much of a dent).
4) The Hunger Games: Catching Fire- 16M Weekend, 360M Total
Look for a 40% drop this weekend. Hunger Games has remained the top film mid-week, but will have to share some of its audience with The Hobbit.
5) Thor The Dark World- 3M Weekend, 198M Total
Thor still is in over 2,000 screens. It might actually surpass Out Of The Furnace this weekend for 5th place.
6) Out Of The Furnace- 3M Weekend, 10M Total
Out Of The Furnace has good reviews, but is also an "oscar bait" movie that hasn't been getting many pre-awards. A lack of Golden Globe nominations will hurt it this week.
7) Philomena- 2.5M Weekend, 11M Total
Philomena should do OK this weekend, after getting a Best Picture nomination at the Golden Globes.
8) Delivery Man- 2M Weekend, 28M Total
Delivery Man lost about a third of its screens this weekend.
9) Nebraska- 1.5M Weekend, 4M Total
Nebraska expanded into 250 screens this week, and should crack the top 10.
10) Homefront- 1.5M Weekend, 17M Total
Black Nativity was dropped from 1,265 screens this weekend, by far the largest drop. The Butler was the second largest drop, losing 946 screens. Free Birds lost 919 screens. Blue Jasmine has added 267 runs, All Is Lost expanded into 116 more screens, Nebraska added 137 to its total, and Inside Llewyn Davis went from 4 to 15 screens.
Anchorman 2 opens on Wednesday and Walking With Dinosaurs opens on Friday. Both American Hustle and Saving Mr. Banks open in limited release today, but will go wide next Friday. Inside Llewyn Davis is also planning another expansion.
Coming on Christmas Day, Justin Bieber's Believe, Grudge Match, 47 Ronin, The Secret Life Of Walter Mitty, and The Wolf Of Wall Street. Also, August Osage County opens in limited release, and Mandela: A Long Walk To Freedom plans an expansion.