Box Office Predictions: 'Hobbit' Vs. 'Anchorman' Vs. 'American Hustle'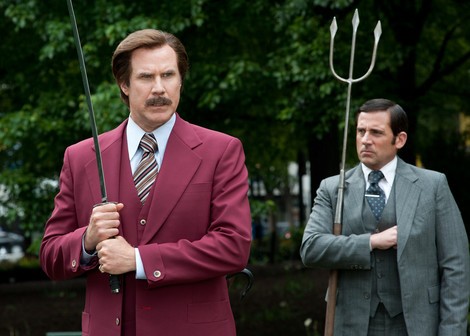 1) The Hobbit: The Desolation Of Smaug- 35M Weekend, 126M Total
Even with an impending 50% drop, it looks as if The Hobbit is going to win the weekend, but Will Ferrell and company are putting up a big fight. Had Anchorman opened on Friday, the demand might have put it higher, but with a spread out 5 day weekend.
2) Anchorman 2- 30M Weekend, 45M Total
The hit comedy managed 8M on Wednesday, putting it on a fast track for a huge weekend, heading into an even bigger Christmas. The counter programming here is perfect, as it is really unlike everything else in the top 10. An Anchorman 3 seems like a logical conclusion at this point, as long as the team wants to make it.
3) American Hustle- 20M Weekend, 21M Total
American Hustle pulled in over 100K per theatre last weekend, and expands now into 2500 screens this weekend. With all the critics clamoring about it, as well as the A-List cast, it should perform really well this weekend.
4) Walking With Dinosaurs- 18M Weekend, 18M Total
Frozen seems like a really big draw still, so I can't imagine Walking With Dinosaurs being much of a draw. They haven't touted any of their voice actors in promos, and tracking hasn't been very high. School should be out now for most of the country, and families that already saw Frozen will be looking for something to see with their family.
5) Frozen- 14M Weekend, 184M Weekend
Even with Walking With Dinosaurs entering the marketplace, I can't see Frozen dipping more than 40%. It has been holding up so well, it has become a must-see for all audiences.
6) Saving Mr Banks- 12M Weekend, 12M Total
Saving Mr Banks had a good-not-great opening weekend. Demand is average, and with a lot of product in the marketplace, Saving Mr Banks might have to hope for good word of mouth in the coming weeks to keep it afloat.
7) Hunger Games: Catching Fire- 8M Weekend, 367M Total
People are still catching up on Catching Fire. Another 40% dip to around 8M could be in store.
8) A Madea Christmas- 5M Weekend, 24M Total
The horrible reviews are going to affect the second weekend of the Tyler Perry movie. Usually, Tyler Perry movies dip hard in their second weekend anyway. The reviews should hurt this one even more.
9) Inside Llewyn Davis- 1.5M Weekend, 2.5M Total
The Coen Brothers film expands into over 150 screens this weekend. It has been doing over 20K per screen, and should still stay above 10K with this expansion.
10) Thor The Dark World- 1.5M Weekend, 201M Total
Thor should round out the top 10, and finally break 200M. If that seems like an unremarkable feat, the first Thor made only 181M and had the prime summer opening spot. Thor has faced much harsher competition.