Box Office Predictions: 'Bad Grandpa' Will Make An Impact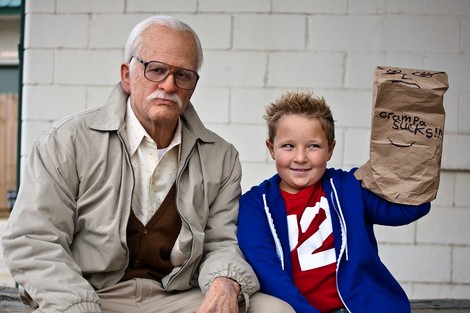 1) Bad Grandpa- 35M Weekend, 35M Total
Entering into a rather serious Top 10 is Bad Grandpa, which is looking to draw in an underserved comedy audience. Specifically, the young male comedy audience. This strategy has worked well for the Jackass films in the past. Jackass 3D opened to 50M, Jackass 2 did 29M. Bad Grandpa is tracking well, and will dominate due to a lack of direct competition.
2) Gravity- 21M Weekend, 200M Total
Gravity is looking to crack 200M this weekend. Another 30% drop to 21M will put it in striking distance. A pretty amazing feat for a film in October, starring only two people. Interestingly, the film will be George Clooney's top grossing film, but will still need to pass The Blind Side at 255M to become Sandra Bullock's.
3) Captain Phillips- 11M Weekend, 67M Total
The Tom Hanks drama should dip another 35%, carrying with strong word of mouth.
4) The Counselor- 9M Weekend, 9M Total
The Counselor hasn't been getting great reviews, and is likely to disappoint this weekend. Brad Pitt's presence in the film seems like an afterthought, so you can't count on him to open the film. This is a Michael Fassbender film, and he's not bankable yet.
5) Carrie- 8M Weekend, 28M Total
Carrie should dip about 50% in week 2. Ratings aren't terrible, so word of mouth won't completely fall apart. Plus, it is the only scary movie in the Top 10 this close to Halloween.
6) Cloudy With A Chance Of Meatballs 2- 6M Weekend, 100M Total
With no new kids films in the marketplace, Cloudy will break 100M this weekend.
7) Escape Plan- 4M Weekend, 15M Total
Audiences weren't in love with Escape Plan, and a 65% drop could be in store for about 4M in week 2.
8) Enough Said- 1.5M Weekend, 12M Total
Dipping only 8% last week, Enough Said should hold up again this week and remain in the Top 10.
9) Prisoners- 1.3M Weekend, 59M Total
10) 12 Years A Slave- 1.0M Weekend, 3M Total
This is a long shot prediction. There are a bunch of movies looking to make about a mil this week, but the most impressive entry into the Top 10 would be 12 Years A Slave which has the lowest screen count of any film that might break the top 10 (realistically) this week.