Bow Wow Thankful For Fans' Overwhelming Support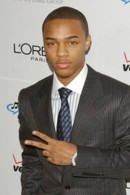 Rapper/actor Bow Wow has been left overwhelmed by the outpouring of support he's received from fans after opening up about the struggles he has faced in recent months and his life as a new dad.

The 24 year old welcomed baby daughter Shai Moss with his ex-girlfriend Joie Chavis last month, but he kept quiet about the news until this week, when he published an open letter online, gushing about his newborn.

In the note, he claimed his "lil girl" has made him realize his role in life and her arrival helped him overcome a very dark period in his life.

Bow Wow's Twitter.com blog was flooded with messages of love and support after he went public with his feelings on his website, and he admits he never expected to receive such a strong and positive response.

In an interview with rap mogul Russell Simmons for GlobalGrind.com, he says, "I'm so used to the media and everybody talking about the bad stuff or the stuff that is really not that important that shouldn't be out there for fans to see rather than focus on the things that really matter.

"I just woke up and felt a certain way and felt like the world was on me... like it (baby news) was a secret everybody was asking me (about) and I just felt like, 'OK, it's either now or never.' I just really wrote it (letter) from the heart, so when everybody accepted it... I couldn't believe it! I was like 'Oh man, this is crazy!'"

And it took a conversation with Transformers star Tyrese Gibson to make Bow Wow see how dealing with his responsibilities openly could encourage other young men with kids to do the right thing.

He adds, "Even Tyrese, who's a good friend of mine, called me and was like, 'Man, you don't even know what you just did.' He said, 'You just made my week because you're the first young African-American... you have a chance to have every male your age and younger who has kids now... You can make them step up and become better men now.'

"When he told me that I was like, 'Wow, I didn't even think about that and I never had my father in my life... ever! So this just makes me want to step up and just go harder even more and give her (baby daughter) everything my father never gave (me)."