'Bottle Shock' Uncorks Onto DVD Feb. 3; Win A Copy!

Pour out the laughs and brim over with American spirit as the incredible true story that put Napa on the map of fine wines is uncorked with
Bottle Shock
, debuting onto DVD February 3rd from Twentieth Century Fox Home Entertainment (TCFHE). Premiering at the 2008 Sundance Film Festival,
Bottle Shock
has won the hearts of critics and audiences alike. Praised as "Rocky for wine aficionados" (The Hollywood
Reporter
),
Bottle Shock
follows novice vintner Jim Barrett who, against all odds and expectations, defeated the heavily favored French varietals at the 1976 blind taste challenge called "The Judgment of Paris." An unforeseen victory by any standards, this central event established California and Napa Valley's reputation as one of the world's top wine producing regions. Shot on location in the breathtakingly beautiful Northern California wine country and using the real-life Chateau Montelena winery in many scenes,
Bottle Shock
celebrates the splendor of California wine country which forever changed the face of the winemaking industry.
Starring an incredible ensemble cast including Golden Globe winner
Alan Rickman
(
Love Actually
,
Sweeney Todd: The Demon Barber of Fleet Street
),
Bill Pullman
(
Independence Day
,
Sleepless in Seattle
),
Chris Pine
(
Star Trek
,
Smokin' Aces
),
Rachael Taylor
(
Transformers
),
Eliza Dushku
("
Dollhouse
"),
Freddy Rodriguez
("
Ugly Betty
") and
Dennis Farina
("
Law and Order
"),
Bottle Shock
was co-written, produced and directed by Randall Miller (
Nobel Son
). The DVD is highlighted by a cellar full of bonus features pleasing to any connoisseur including behind-the-scenes featurette, an inside look at Chateau Montelena winery, deleted scenes and cast/crew commentary.
For every wine lover, TCFHE is also debuting "The Perfect Pairing" DVD Two-Pack which includes
Bottle Shock
and the Academy Award -winning film
Sideways
(Best Writing, Adapted Screenplay - 2005), the side-splitting and poignant comedy about a modern-day odd couple on a road trip through central California in search of wine, women and themselves.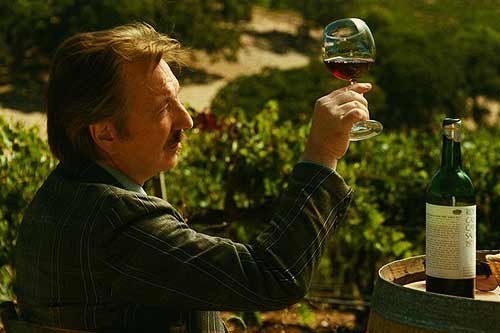 For connoisseur Steven Spurrier (Rickman), there's no finer art than French wine, despite rumors that the new California wine country holds the future of the vine. Positive the small Napa wineries are no match for established French vintages, Spurrier challenges the Americans to a blind tasting. But when he finds the valley full of ambitious - and talented - novice vintners like Jim Barrett (Pullman) and his son Bo (Pine), he realizes his publicity stunt may change the history of wine forever.
DVD Specs:
The
Bottle Shock
DVD is presented in widescreen format (2.35:1 aspect ratio) with English 5.1 Dolby
Surround sound and English and Spanish subtitles. Bonus features include:
Commentary by actors Bill Pullman, Chris Pine and Eliza Dushku, director/producer Randall Miller,
writer/producer Jody Slavin, producer J. Todd Harris and writers Ross Schwartz and Lannette Pabon
An Underdog's Journey: The Making of
Bottle Shock
featurette
Chateau Montelena: One Winery's Search for Excellence featurette
Deleted Scenes
-
Enter here for your chance to win one of five copies of "Bottle Shock" on DVD!