'Boston Legal' Season Four Debuts On DVD Sept. 23; Win A Copy!

At the chaotic law firm of Crane Poole & Schmidt, there's no such thing as temporary insanity - it's more of a permanent condition! Amid torrid interoffice love affairs, and under the watchful eye of new senior partner Carl Sack, the firm's brilliant but volatile attorneys take on such burning social issues as the death penalty, gays in the military, euthanasia, mortgage foreclosures, going green, racism, obesity and animal rights. So enjoy a stiff drink and light a cigar as the fourth season of the seriously addicting legal drama
Boston Legal
lands on DVD September 23rd from Fox Home Entertainment.
Headlining the stellar ensemble cast are
James Spader
(
Secretary
,
Sex Lies and Videotape
) and
William Shatner
(
Star Trek
), starring in their respective Golden Globe and Emmy award-winning roles as two unlikely kindred spirits among the brigade of high-priced litigators at Crane Poole & Schmidt; matching forces in her Emmy nominated role is
Candice Bergen
(
Murphy Brown
) playing the vigilant founding partner; and former TV lawyer
John Larroquette
(
Night Court
) joins the firm as the new senior lawyer from the New York office.
From prolific television producing and writing icon David E. Kelley (
Ally McBeal
,
The Practice
) Boston Legal tells the professional and personal stories of a group of brilliant, but often emotionally challenged attorneys. Sometimes irreverent and funny, sometimes intense and moving,
Boston Legal
prides itself on being at the forefront of issue-oriented television, often addressing issues that are underreported by the media. Fast paced and darkly comedic, the series confronts social and moral issues, while its characters continually stretch the boundaries of the law. Nominated for an Emmy Award for Outstanding Drama Series in 2007, The Academy of Television Arts & Sciences recently honored the show with their Television Academy Honors, recognizing television with a conscience and achievements in programming that present issues of concern to society in a compelling, emotional and insightful way. The five-disc
Boston Legal
Season Four DVD collection includes all 20 episodes from the fourth season along with "The New Kids on the Courtroom Floor" behind-the-scenes featurette.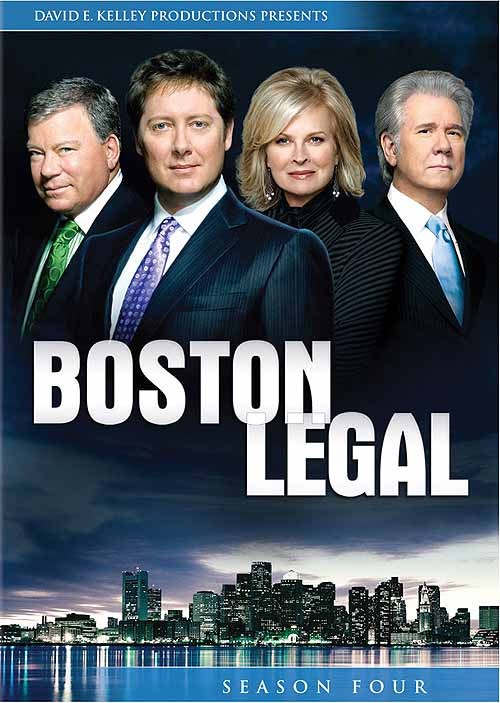 Boston Legal
Season Four DVD is presented in widescreen format with English 5.1 Dolby Surround Sound, with English, Spanish, French and Portuguese subtitles. Individual disc content as follows:
Disc One:
"Beauty and The Beast," "The Innocent Man," "The Chicken and The Leg," "Do Tell,"
Disc Two:
"Hope and Glory," "The Object of My Affection," "Attack of the Xenophobes," "Oral Contracts"
Disc Three:
"No Brains Left Behind," "Green Christmas," "Mad About You," "Roe v. Wade, The Musical"
Disc Four:
"Glow in the Dark," "Rescue Me," "Tabloid Nation," "The Mighty Rogues,"
Disc Five:
"The Court Supreme," "Indecent Proposals," "The Gods Must Be Crazy," "Patriot Acts"
Special Feature
- 'The New Kids on the Courtroom Floor' featurette
Series Synopsis:
Everyone deserves his or her day in court. In fact, some people deserve more than one. Take the attorneys of Crane Poole & Schmidt, whose unquestionable legal brilliance is matched only by the outrageous instability of their personal lives. It's a chaotic world where sexual harassment, extortion, kidnapping and attempted murder all comes with the territory… and those are just the attorneys!
-
Win a copy of the Boston Legal Season Four DVD Set Here!
More Boston Legal:
-
News
-
Filmography
Click the pics for gallery & larger images
A recognized global industry leader, Twentieth Century Fox Home Entertainment LLC (TCFHE) is the worldwide marketing, sales and distribution company for all Fox film and television programming on DVD, Blu-ray Disc (BD) and Digital Copy as well as acquisitions and original productions. The company also releases all products around the globe for MGM Home Entertainment. Each year TCFHE introduces hundreds of new and newly enhanced products, which it services to retail outlets -- from mass merchants and warehouse clubs to specialty stores and e-commerce - throughout the world. Twentieth Century Fox Home Entertainment LLC is a subsidiary of Twentieth Century Fox Film Corporation, a News Corporation company.