Boston Acoustics TVee 26 Soundbar with Wireless Subwoofer [REVIEW]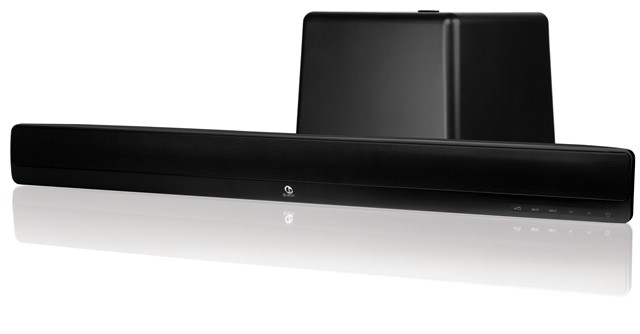 Chances are, if you got a new television this holiday season, you might love the picture quality but wow, that sound is underwhelming. And if you're anything like me, as much as you love having a home theater surround system with multiple speakers, you can't exactly have that in every room in your house.
My best speaker system is in my bedroom where I watch the majority of my TV shows. But I've wanted a soundbar in the living room so I could stop using the terrible internal speaker my Panasonic plasma comes with.
Recently, I had the opportunity to try the TVee 26 Soundbar with Wireless Subwoofer from Boston Acoustics. (My roommate got to try it out as well.)
While I'm fairly well-versed in setting up home theaters, even I was surprised at how simple the set-up was. I was up and running in less than 15 minutes.
Almost instantly, my roommate and I heard a deeper, room-filling sound once the speaker was turned on. I hooked it up via digital optical audio (thanks for including the wire Boston Acoustics) but opted not to mount it on the wall. Instead, it's situated just under my TV but on the TV stand. The soundbar weighs just under 5 pounds so make sure you know what you're doing if you opt to wall mount it.
The main front unit has touch sensitive controls, but we opted to teach one of our remote controls (you can use a cable remote, TV remote, etc.) how to actually control the volume on the speaker. You can only teach one remote at a time, and you'll want to make sure if it's your TV remote, you tell your TV to turn off their speakers so you're not still adjusting them when you try to adjust the volume on the soundbar.
Pairing the subwoofer is pretty easy, as you'll do it with a set of pair buttons on the subwoofer and soundbar. (If you can pair a Bluetooth device, you can pair this.) You shouldn't put it more than 20 feet away from the subwoofer—mine was placed about 15 feet away next to the couches. Like any subwoofer, you won't be happy until you tune the volume on a variety of movies and TV shows to find the right mix of subtle, deep sound and, you know, rumbling the floors.
The Boston Acoustics TVee 26 Soundbar and Wireless Subwoofer retails for $349.99. To learn more, please visit this link. (Note: A previous version of this article listed the retail price at $299.99. This review now reflects the correct price.)
* Disclosure: A review unit was provided by Boston Acoustics to the reviewer for the purposes of this review. *