Book Review: 'Shh! It's a Secret' by Daniel M. Kimmel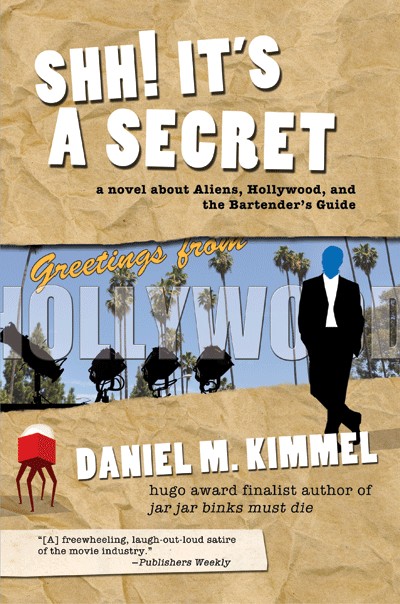 Full disclosure: author Daniel M. Kimmel is my friend, and my colleague in The Boston Online Film Critics Association. However I can honestly say that I would have loved his book Shh! It's a Secret: a novel about Aliens, Hollywood, and the Bartender's Guide, regardless of whether I knew him personally. Kimmel's debut novel is brilliant satire of the film industry, which also happens to be a hilarious, heartwarming science fiction story about unexpected friendship.  

To provide some context for his expertise, Kimmel has been a critic for over 25 years and is currently a professor of film at Suffolk University. Additionally, he has authored a few non-fiction books about cinema including the Hugo Award-nominated Jar Jar Binks Must Die...and other Observations about Science Fiction Movies. So not only does Kimmel's extensive knowledge about film allow him to accurately recreate the industry in Shh! It's a Secret, but his regular interaction with publicists as a critic places him in a qualified position to lampoon the Hollywood machine's public relations arm. And if you couldn't tell from the title of Kimmel's previous book, he has a great reverence for science fiction as a genre, something which comes through in this novel.

Shh! It's a Secret takes place a world where friendly blue visitors from the planet Brogard land in the unique remote location of the New York State's Catskills Mountains. Following the initial shock of their arrival, Earthlings and the Brogardi quickly adapt to one another, trading scientific ideas, although delaying significant cultural exchanges.

The novel focuses Jake Berman, a movie studio executive and family man who handles publicity for the small, but profitable Graham Studios. Jake's comfortable life is thrown into disarray when the Brogardi ambassador's son Abi (Abe) Gezunt approaches Graham Studios to become Earth's first Brogardi movie star. Jake is given the monumental task of promoting a feature film starring Abe without compromising Graham's competitive edge by revealing the picture's star or its plot. Jake must also keep a close personal eye on Abe to ensure no one figures out what Graham Studios is up to and to avoid any potential public relations nightmares before the movie's premiere.

As you might expect, Jake's covert plan to keep Abe's film under wraps is where the novel's title Shh! It's a Secret comes in. Just as you would find in a film, the book's title actually pops up in dialogue between the characters. Except instead of being a forced, one-and-done thing, Kimmel cleverly integrates it in several capacities so that it becomes a running joke with the reader. Speaking of running gags, Kimmel employs another amusing one with the titles of his chapters, which borrow their names from the titles of science fiction films, such as "War of the Worlds" and "Mars Attacks!"

The comedy doesn't end there though. Kimmel's descriptions of characters, locations, and Brogardi mannerisms are all quite funny too. His writing is chock full of pop culture references including sci-fi ones you'd expect like "Star Trek" and plenty that catch you off-guard like a comparison he makes to Lady Gaga. Kimmel's voice is very distinct with a droll sense of humor, and although it's not necessary to know him in order to get everything, my familiarity with his background and his style of writing amplified my appreciation for this tale.

Kimmel's yarn is a fast-paced, enjoyable read that bounces between several exciting locations: Los Angeles, New York City, and yes even the Catskills. There's also amazing suspense in the build up to the premiere of Abe's film. What's most surprising though, is the touching friendship that slowly develops between Abe and Jake. Throughout the book, Jake and Abe share many charming conversations and moments where they learn a great deal from one another. Just like Abe, you'll be captivated by the differences between their Earth and Brogardi cultures and happy for witnessing how the two species manage to find common ground.

Shh! It's a Secret is available at Amazon and Barnesandnoble.com.